UK inflation fell to 4.6% in October (6.7% in September)
Markets expect the next move to be a rate cut next summer
EURGBP struggling to break technical resistance, despite data
UK inflation fell sharply in October and faster than the Bank of England anticipated, further reducing the prospect of any more rate hikes in this tightening cycle.
It was already likely that the BoE was done raising rates but as that was based on the view that inflation would fall to 4.8% last month, that could have changed with a higher reading this morning. Instead, it fell even further to 4.6% so there's unlikely to be a big swing on the MPC in favour of hiking now, not unless the data performs much worse over the coming months.
It's not just the headline numbers that are encouraging though. Much like the other data we're seeing, the most recent monthly figures look extremely promising too, suggesting the pace of disinflation has accelerated recently in a manner consistent with inflation now running much lower than the annual comparisons suggest.
If we continue to see this over the coming months, especially if paired with similar trends in monthly wage growth, that first rate cut from the BoE could come earlier than many expect.
There will obviously be areas of stubbornness in the data, most notably services, but if monthly wage data continues to print at levels consistent with the 2% inflation goal and CPI data too, it's surely only a matter of time until services fall as well. All things considered, this week's data from the UK looks incredibly promising.
Is EUR/GBP running on fumes?
Today's data has weighed on the pound, as you'd expect given what it means for interest rate expectations, and yet we haven't necessarily seen an acceleration in the sell-off against the euro.
EURGBP Daily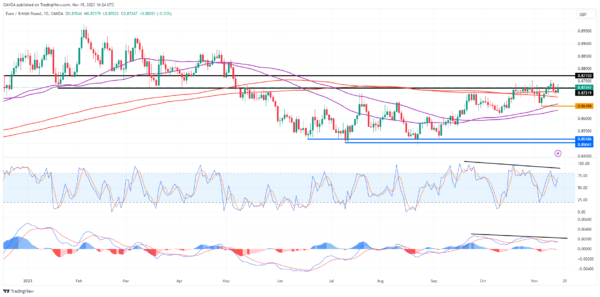 Source – OANDA on Trading View
The euro has rallied against the pound for the last few months, breaking above the 200/233-day simple moving average band in the process, but since doing that, it's struggled to take off. Rather, it's become very sluggish and done so is an area that's proven to be a stubborn point of support and resistance over the last year.
You can see that from the stochastic and MACD on the bottom, both of which have been making lower highs while the price has done the opposite. To see that around a major area of resistance could be viewed as a sign that traders are losing faith in the rally.
That may make 0.8650 a very interesting level as a move below here could complete a double top breakout which would technically be a bearish signal.