Key Points:
ABCD wave could see further gains after a near-term moderation.
MACD and EMA suggestive of general bullish trend in the long-term
Fundamentals also supportive of extending bullish momentum.
Silver's long-term uptrend may be due for a spell of moderation moving ahead as the metal prepares to make a final push higher in the coming weeks. Specifically, the combination of a number of technical forces is beginning to put pressure on silver prices, even if the general bias remains long-term bullish.
Firstly, if we take a look at the daily chart a few things become readily apparent. For one, the combination of the declining trend line and some highly oversold stochasticreadings are practically begging for a reversal in the coming sessions. However, it's also clear that this reversal will likely be short-lived and more of a moderating movement than a serious change in momentum. As a result, any near-term losses should be capped by the 23.6% Fibonacci level at around the 17.791 handle and the uptrend should resume around this point.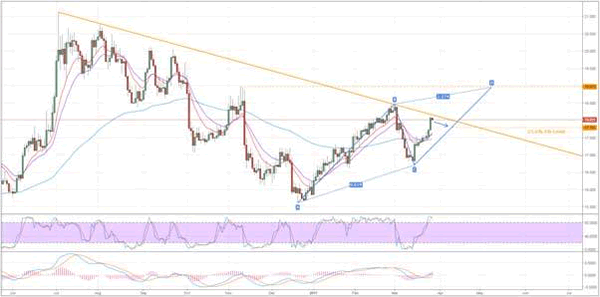 All this being said, what exactly is the evidence supporting continued bullishness over the coming weeks? Primarily, we would look to the fairly convincing ABCD wave that is becoming clearer on the above daily chart to support the argument for additional gains in silver prices. However, we can also see that the EMA bias and the MACD signal line crossover are supportive of this forecast which should see the metal pushing the 19.00 handle moving ahead. Gains beyond this price currently seem unlikely, given the robust zone of resistance present around this handle.
From a fundamental perspective, we have even greater reason to suspect that the uptrend will remain in place after a short period of moderation. Unsurprisingly, this has everything to do with Trump and the uncertainty his administration presents for the US. Indeed, only yesterday the Fed's Evans spoke on how the recent failure of the GOP's Healthcare bill demonstrates rising uncertainty and political risk in the US. As one would expect, growing unease over the stability of the world's largest economy and military power has been a key driver of safe haven investment prices over the past weeks and this momentum doesn't look like its ready to evaporate anytime soon.
Ultimately, the agreement of both the technical and fundamental forecasts discussed above present a fairly strong argument for a near-term slip followed by a resumption of the uptrend. In particular, the presence of the ABCD wave and the ongoing turmoil of the Trump presidency should be the two key drivers informing the metal's movement and both should be monitored closely.