Rates: US political uncertainty takes the upper hand
The bar to beat today's US eco data isn't that high. However, we don't think that investors are willing to set up big new short positions in core bonds ahead of the Fed meeting given increased US political risk. The latter took the upper hand yesterday. ECB heavyweights Draghi, Constancio and Praet are scheduled to speak. Will they give more details on the end of APP?
Currencies: US political noise weighs on the dollar
US president Trump firing Secretary of State Tillerson blocked any further USD gains. Today's eco calendar contains US PPI and retail sales. Several ECB members speak in Frankfurt. The eco data and the ECB message might be USD supportive/euro negative. However, it uncertain whether this will be enough to counterbalance the US political news flow.
The Sunrise Headlines
US stock markets ended 0.65% to 1% (Nasdaq) lower after President Trump fired Secretary of State Tillerson. Asian stock markets lose around 0.5% overnight.
Democrat Lamb and Republican Saccone were locked in a virtual dead heat with nearly all of the votes counted in Pennsylvania's special election for a US House seat. Mr. Lamb carried a lead yet the margin was so tight the race won't be decided until local officials finish counting absentee ballots
US President Trump is seeking to impose tariffs on up to $60bn of Chinese imports and will target the technology and telecommunications sectors, two people who had discussed the issue with the Trump administration said.
China's factory output (7.2% Y/Y) and investment growth (7.9% Y/Y) unexpectedly accelerated in the first two months of the year amid robust global demand. Retail sales (9.7% Y/Y YTD) were near consensus.
G20 financial leaders will pledge to fight unfair trade practices and stress the role of global trade rules when they meet on March 20, as the US raises the threat of a global trade war by imposing import tariffs on steel and aluminium.
Most BoJ policymakers shared the view that the central bank should "persistently" pursue powerful monetary easing, though some called for the need to scrutinise the potential drawbacks of massive stimulus.
Today's eco calendar contains EMU industrial production, US retail sales and US PPI data. Several ECB members speak. Germany and Portugal tap the market.
Currencies: US Political Noise Weighs On The Dollar
US political noise weighs on the dollar
Dollar sentiment was neutral (USD/EUR) to modestly positive yesterday in the run-up to the US CPI release. CPI was exactly as expected. However, the market reaction was disturbed by President Trump firing Secretary of State Tillerson. Markets hesitated, but sentiment turned risk-off. US yields, equities and the dollar all declined. This was both due to a soft interpretation of the CPI and as a reaction to US political tensions. EUR/USD closed the session at 1.2390. USD/JPY reversed a big part of the intraday rebound and finished at 106.58.
Chinese eco data (retail sales, production, Fixed assets investments) were OK overnight, but insufficient to balance the negative spill-over effects from the US. Core yields are holding near yesterday's lows. The dollar remains in the defensive. EUR/USD hovers in the 1.24 area. USD/JPY is changing hands in the 106.50 area. For now, the moves both in equities and on the FX market still develop in an orderly way.
US retail sales and PPI take center stage today. Markets will also keep a close eye on a conference in Frankfurt. Several ECB board members, including President Draghi, are scheduled to speak. US retail sales are expected to rebound after a poor January reading. Base effects might also be supportive for the PPI data. We see a good chance for both series to meet or even exceed the consensus. Question is whether this will be enough to counterbalance the US political noise. In Frankfurt, we expect the ECB to confirm a gradual approach on policy normalization. If Draghi and Co back the scenario of a gradual scaling back of APP beyond September, it should in theory be a euro negative. Yesterday, US political risk was the dominant factor for USD trading. Eco data and ECB talk might be EUR/USD negative, but it is far from sure that it will change fortunes for the dollar. We expect more nervous EUR/USD trading near current levels. A break beyond intermediate resistance at 1.2450 would open the way for a retest of the 1.2550/1.26 area. A break of the 1.2155 support looks difficult shortterm.
Yesterday, sterling initially traded with a cautious upward bias as the half year budget update contained some cautiously positive news. However, in the end EUR/GBP closed little changed. There are again no UK eco data today. A global risk-off sentiment is no help for sterling. So EUR/GBP might hold close to or even return north of 0.89.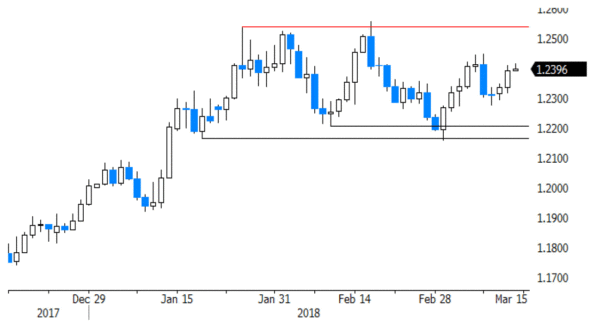 EUR/USD: US political uncertainty blocks USD gains. Will US data be strong enough to change fortunes for the dollar