At 08:30 GMT, the BOE Credit Conditions Survey will be published. This is a survey of lenders which asks respondents to rate the level of credit conditions, including secured and unsecured loans to households, small businesses, non-financial corporations and non-bank firms. GBP pairs could move because of this data release.
At 09:00 GMT, Eurozone Industrial Production w.d.a. (YoY) (Feb) will be released with a consensus of 3.8% from a prior of 2.7%. Industrial Production s.a. (MoM) (Feb) is expected at 0.1% from -1.0% previously. The monthly figure dipped to -1.0% last month, with a further decline creating a headwind for the Eurozone economy. This data was compiled during the cold snap that gripped the continent so there is still hope for a rebound in the coming months. The EUR may be moved by this data.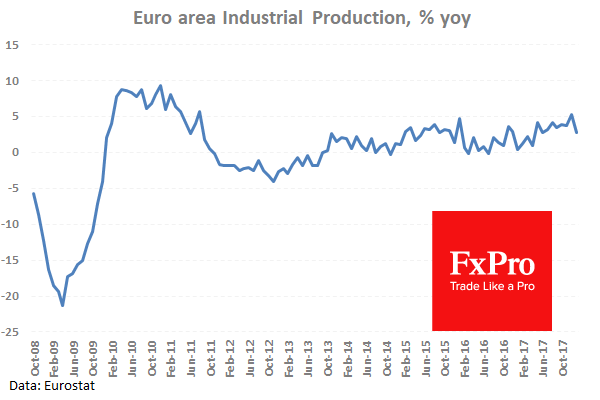 At 11:30 GMT, the ECB Monetary Policy Meeting Accounts will be released. This is a detailed record of the ECB Governing Board's most recent meeting, providing in-depth insights into the economic conditions that influenced their decision on where to set interest rates. EUR traders will pay attention to this release.
At 12:15 GMT, the ECB's Coeure is due to deliver a scheduled speech. Comments made may result in movement in EUR crosses.
At 12:30 GMT, US Continuing Jobless Claims (Mar 30) is expected to be 1.848M against a previous 1.808M. Initial Jobless Claims (Apr 6) is expected to be 230K from 242K previously. The Initial Claims ticked up last week, with this week's data expected to show a rise in continuing claims after a decade-low number was recorded. USD pairs could be moved by this data.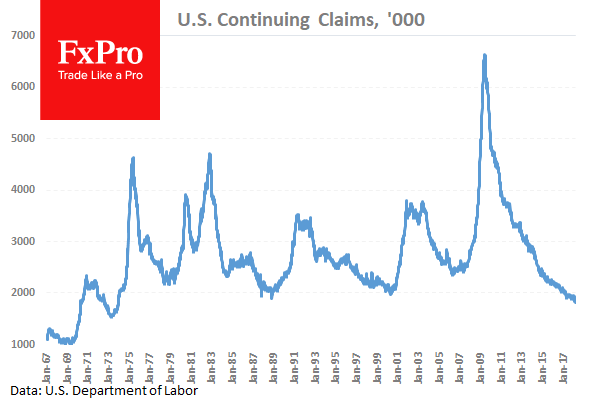 At 16:00 GMT, German BUBA President Weidmann is due to deliver a speech titled "A spirit of optimism in Europe – guidelines for a crisis-proof monetary union" at the Ludwig Erhard Lecture, in Berlin. Comments may cause moves in EUR pairs.
At 19:00 GMT, BOE Governor Carney is due to deliver closing remarks at the Public Policy Forum's Canada growth summit, in Toronto. His comments may result in volatility in GBP crosses.
At 21:00 GMT, FOMC Member Kaskari is due to make a scheduled speech. Comments may affect USD pairs.
At 22:30 GMT, Business NZ PMI (Mar) will be released, with a previous reading of 53.4. This data has been declining since its December reading of 57.7. A reading above 50.0 indicates growth. NZD crosses may be moved by this data release.