Oil Pares Gains Ahead of Iran Decision
US futures are tracking their European counterparts lower ahead of the open on Tuesday, as traders await an announcement from US President Donald Trump on Iran.
Trump is widely expected to announce that the US is withdrawing from the Iran nuclear deal later on today, despite the best efforts from his European partners to convince him to work with them to improve it. Should the US withdraw, investors will be keen to know what sanctions will be imposed as a result and what impact that will have on the country, most notably its oil output.
Oil prices are paring gains early in the European session after having peaked on Monday in response to Trump's statement. WTI crude prices surpassed $70 a barrel for the first time since November 2014 on Monday and how they respond later will likely depend on how restrictive future sanctions – assuming there are any – are on the country's ability to export.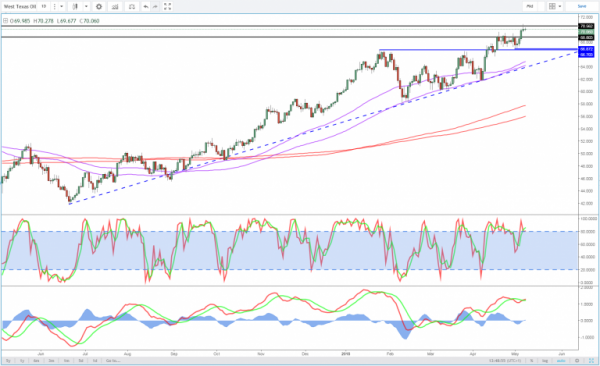 It will be interesting to see what Trump's approach will have on risk appetite, with US equities already struggling to generate much upside momentum. Some will naturally point to the progress being made in Korea as evidence that a more hard-line approach is effective, although every situation is different and so doing so again may not yield the same result.
DAX Slips on Concerns over Possible ECB Stimulus Extension
US indices continue to look vulnerable having repeatedly failed to surpass recent peaks. While the Dow has managed to find support just above 23,000 over the last few months, I'm not sure it can take many more challenges and a break of this could be the catalyst for another sharp decline in equities.
While the week is looking a little quiet on the economic events side – with the Bank of England decision on Thursday and US inflation data the highlights – we do still have some first quarter earnings releases, with 45 S&P 500 companies reporting. It's been a very strong earnings season so far, although this has provided little comfort for investors that appear to have temporarily lost faith in stock markets.