The recent developments in the US-China trade talks support our base case that the two parts will eventually make a 1grand bargain , as we outlined in Research: Two scenarios for the US-China trade conflict , 4 April. This is positive for both the global economy and risk , as the risk of a full-blown trade war has been one of the biggest risk factors out there.
On Saturday, the US and China governments released a joint statement on the progress made in trade talks. China agreed to 'substantially reduce' its trade surplus in goods with the US (which was USD375bn in 2017), mostly by purchasing more US agricultural and energy goods. The Trump administration has previously said it wants China to reduce the trade balance by USD200bn but the joint statement says nothing about the specific amount and it is most likely going to be significantly smaller than that. This morning there was a Bloomberg story saying that China will cut its tariffs on cars to 15% from 25% (effective 1 July).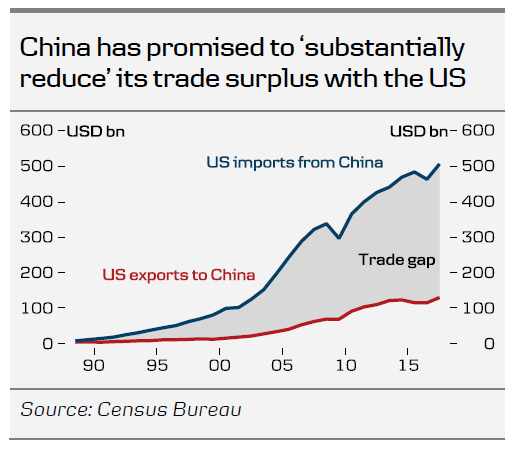 China has also promised to strengthen its laws and regulations on intellectual property , which is considered very important both for the US and Europe.
In return, the US is going to put the proposed tariffs on goods imported from China in the region of USD50-150bn on hold while the details are being negotiated.
According to the Wall Street Journal (paywall), Trump has agreed to lift the ban of US sales to the big Chinese tele equipment maker ZTE on condition there will be significant changes in the management and board of the company in addition to big fines. The details of the deal, however, are still being put together, according to sources. If the ban is implemented it would basically put ZTE out of business, as the company depends on supplies from US companies. It seems likely that the Chinese side has stipulated as a condition in any deal that ZTE would be able to stay in business. Following a phone call between Trump and Xi Jinping, Trump tweeted that they were 'working together to give massive Chinese phone company, ZTE, a way to get back into business, fast' .
Some also argue that the Trump administration's softer stance on China is linked to the North Korea situation ahead of the summit between Kim Jong-un and Donald Trump on 12 June.
While the 'grand bargain' is moving closer, it is too early to declare victory . Trump has come under pressure from both China hawks within his own party and the Democratic party, which says that Trump has become too soft on China. See The Washington Post and Reuters . It clearly illustrates that the support for a protectionist path against China in the US is strong and goes across party lines.
What to look out for going forward? This week, Chinese Foreign Minister Wang Yi is due to go to Washington to continue talks on ZTE. Next week, US Commerce Secretary Wilbur Ross, who oversees the ZTE case, is set to go to Beijing.