EUR/JPY Bullish consolidation.
EUR/JPY is now consolidating after its recent rally. Key resistance is located at 128.83 (30/06/2017). Hourly support can be found at 127.10 (30/06/2017). Next support is given at 122.56 (18/05/2017 low). Further upside is favored.
In the longer term, the technical structure validates a medium-term succession of lower highs and lower lows. As a result, the resistance at 149.78 (08/12/2014 high) has likely marked the end of the rise that started in July 2012. Strong support at 94.12 (24/07/2012 low) looks nonetheless far away.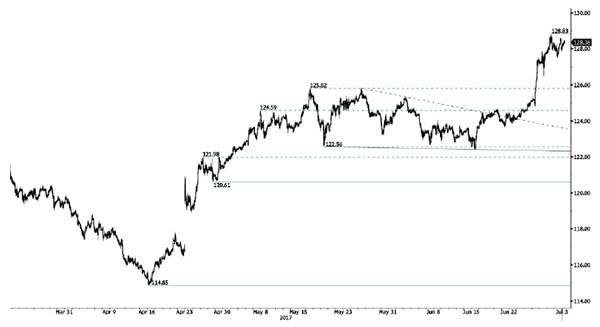 EUR/GBP Slight weakness.
EUR/GBP has broken downtrend resistance triggering a move towards 1.0987. Hourly support can be located at Support can be found at 0.8652 (08/06/2017 low). Expected to show further consolidation.
In the long-term, the pair has largely recovered from recent lows in 2015. The technical structure suggests a growing upside momentum. The pair is trading above from its 200 DMA. Strong resistance can be found at 0.9500 psychological level.
EUR/CHF Recovery gains strength.
EUR/CHF's short-term bullish pressures are definitely on after clear break of downtrend channel. Hourly support is located at a distance at 1.0792 (03/05/2017 low) while the pair is heading towards resistance given at 1.0987 (12/05/2017 high).
In the longer term, the technical structure is mixed. Resistance can be found at 1.1200 (04/02/2015 high). Yet,the ECB's QE programme is likely to cause persistent selling pressures on the euro, which should weigh on EUR/CHF. Supports can be found at 1.0184 (28/01/2015 low) and 1.0082 (27/01/2015 low).