Key Highlights
EUR/USD declined heavily below the 1.0900 and 1.0850 support levels.
A major bearish trend line is forming with resistance near 1.0865 on the 4-hours chart.
The Euro Area GDP increased 0.9% in Q4 2019 (Prelim), down from the last revised 1.2%.
The German GDP rose 0.4% in Q4 2019 (Prelim), less than the last revised 0.6%
EUR/USD Technical Analysis
This past week, the Euro extended its decline below the 1.0900 support area against the US Dollar. EUR/USD even broke the 1.0850 support and traded to a new 2020 low.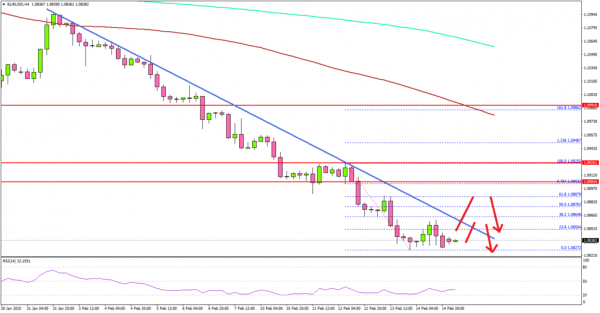 Looking at the 4-hours chart, the pair failed to stay above the key 1.0900 support area and settled well below both the 100 simple moving average (red, 4-hours) and the 200 simple moving average (green, 4-hours).
It opened the doors for more losses and the pair traded towards the 1.0820 support area. At the moment, the current price action is highly bearish, suggesting more losses below the 1.0820 and 1.0800 support levels.
On the upside, there are many hurdles forming near the 1.0870 and 1.0900 levels. Besides, there is a major bearish trend line forming with resistance near 1.0865.
To start a strong recovery, EUR/USD must move back above the 1.0900 pivot level. If not, it is likely to continue lower below 1.0800.
Fundamentally, the Euro Area Gross Domestic Product report for Q4 2019 (Prelim) was released by the Eurostat. The market was looking for a 1% rise in the GDP compared with the same quarter a year ago.
The actual result was very disappointing, as the Euro Area Gross Domestic Product grew only 0.9%, down from the last revised growth rate of 1.2%. Looking at the quarterly change, there was a 0.1% rise in the GDP, similar to the forecast.
The report added:
Compared with the same quarter of the previous year, seasonally adjusted GDP rose by 0.9% in the euro area and by 1.2% in the EU27in the fourth quarter of 2019, after +1.2% and +1.5% respectively in the previous quarter.
Overall, EUR/USD could struggle to recover above 1.0900 in the near term. Conversely, there was a nice upward move in GBP/USD above the 1.3000 resistance area.
Upcoming Economic Releases
Eurogroup Meetings.
German Buba Monthly Report.