Key Points:
Price action reaches the upper channel constraint and shows signs of stalling.
RSI and Stochastic Oscillators showing a move to the downside.
Watch for a move lower in the coming days.
The Aussie Dollar has been on a bullish rampage of late as the currency pair has been buoyed by a range of technical and fundamental factors. In particular, the recent weakness of the greenback has proven to be a boon for the Aussie Dollar as the pair has moved sharply higher to test the bounds of the 0.8100 handle. However, some interesting technical factors could potentially be about to influence price action's direction. Subsequently, it remains to be seen if the pair will retain its current directional bias.
From a purely technical perspective, the momentum has largely evaporated from the pair's recent rally and failure to break through the 0.8100 handle. Subsequently, price action has started to drift lower over the past few days whilst the RSI Oscillator is in pull-back mode away from over bought territory. Additionally, the Stochastic Oscillator is largely supportive of a potential pullback as is the MACD.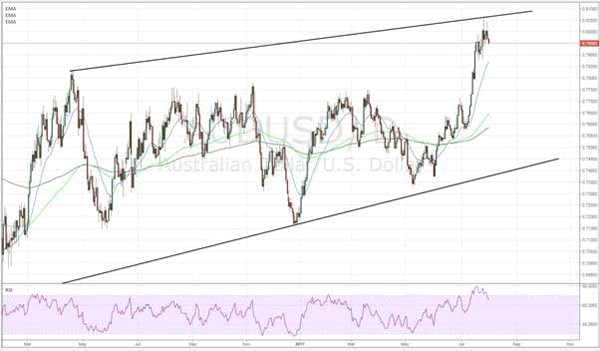 Fundamentally, the RBA's decision to not move rates, whilst also hinting at some of the sectoral problems with the Australian economy, has sought to stall the Aussie Dollar's advance. Additionally, there is little fundamental reason for the pair's current valuation given the huge divergence between the U.S. and Australian economies. Subsequently, as we move towards the Non-Farm Payroll figures, a bounce back in the greenback's sentiment is likely in the coming days.
Ultimately, the most likely scenario for the next few days is a gradual drift lower for the Aussie Dollar until it breaches near term support at 0.7939. At this point, anything could be on the cards for the pair and a sharp downside push back towards the 78 cent handle could be highly likely. However, despite the negative technical factors, the looming NFP event is likely to be the one that sets the near term trend. Subsequently, monitor the event closely as a result above 180k could see the pair rally strongly.