EUR/USD
The currency pair failed to overcome the resistance at 1.1232 and was strongly sold off with the opening of European markets. Support at 1.1180 has been breached and the bears are testing the bottom again at 1.1107. Prices have failed to bounce off the zone and it is possible that it will be cleared as well. In such a scenario, a new wave of sell-offs is possible, aimed at testing support at 1.1000. Today, a second round of talks is expected between Ukraine and Russia, and with favorable developments, the bulls may return to the market, but while prices are below 1.1290, expectations remain negative. Today, the significant events in the economic calendar are the Eurozone preliminary CPI at 10:00 GMT and the testimony of chairman Powell in front of Congress at 15:00 GMT. However the situation in Ukraine remains a leading factor in market development.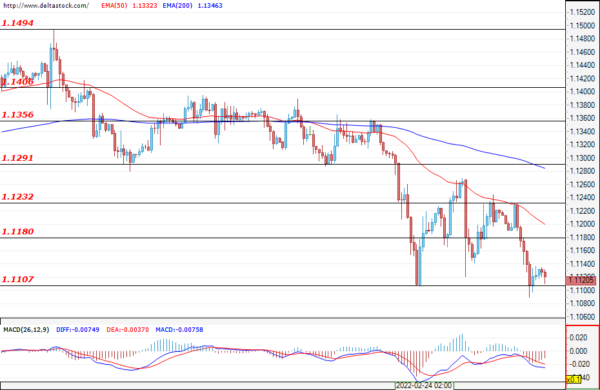 USD/JPY
The resistance at 115.73 was tested once again, and the bears confirmed their intention to maintain their positions. It is likely that the market will continue to trade in the range between support at 114.50 and resistance 115.73. At the moment, the mood is mixed and prices do not find a clear direction.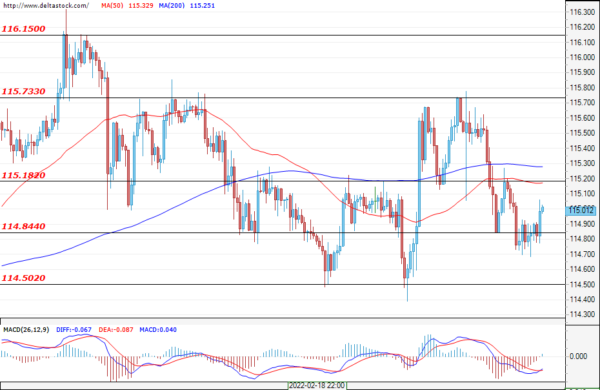 GBP/USD
Like the euro, the sterling also started the month in the red. The resistance at 1.3434 was tested once again and briefly after a massive sell-off followed. The bottom at 1.3271 has not yet been tested, but the low presence of bulls suggests that such a test is possible. The market shows divergence and if the support at 1.3270 is not cleared, a complex pullback is likely to develop. Prices remain in bears territory until the resistance at 1.3600 is broken. In case of breaking the 1.3270 support, a drop to the next support at 1.3200 is possible.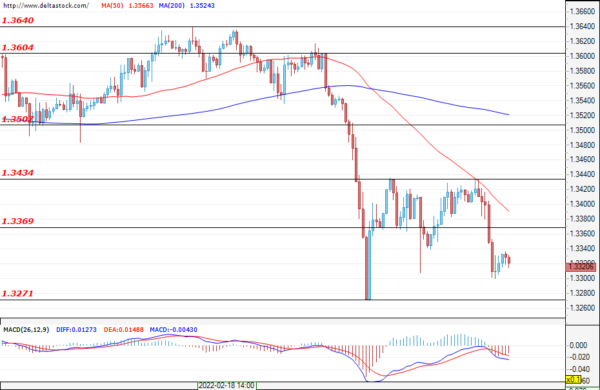 EUGERMANY40
The German index tanked yesterday and it was one of the worst performing markets. Prices tested again the weekly support at 13800 and briefly managed to violate it. Given the extreme negativity, a strong bounce from the 13800 zone is possible, with the first serious resistance being 14450. If the weekly support is broken, the next zones with the potential to limit the declines are 13630 and 13250. Should prices return above 14450 sentiment would improve significantly, however a suitable catalyst would be needed.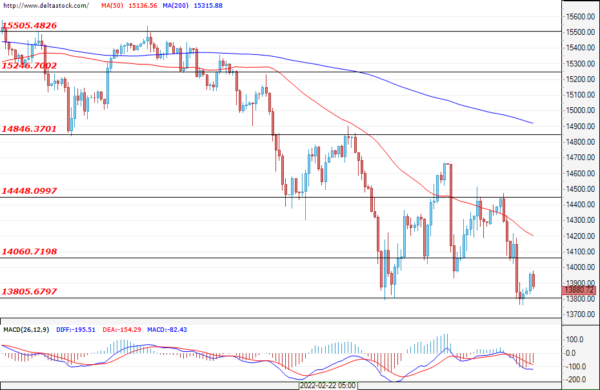 US30
Despite yesterday's declines the US blue chips are performing better than their European peers. The area around 34050 has already been tested several times and if the structure is cleared a strong rally is expected with potential targets being at 34520 and 35010. The first support for the day is 33150, and if it is violated the next one is around 32800-32700. Jerome Powell is expected to testify before the Congress today at 17:00 EET and there may be an increase in volatility during the event.