Bank of Indonesia Governor Perry Warjiyo announced that Jakarta is following the lead of the BRICS bloc to reduce dependence on the USD and diversify the use of currency in international trade. Indonesia is "more concrete" than the BRICS because they have already implemented the currency diversification method with several nations, including Thailand, Malaysia, China, and Japan. And the Indonesian government plans to sign an agreement with South Korea soon. Other countries are seeking alternatives as the US continues to weaponize the dollar. It seems the USD may have to share the spotlight with other currencies soon. The search for alternatives will positively impact the crypto markets as early-bird investors look to capitalize.
BTCUSD – Daily Timeframe
Bitcoin has had a few days of consolidation within a key demand zone. As you can see from the chart, we also have added confluence from the 50-Day Moving Average. Looking at the stochastics, we can establish that there is a divergence that often results in price reversals. With these indicators and considering the fundamental data, I believe it is safe to expect a bullish reversal soon enough.
Analysts' Expectations:
Direction: Bullish
Target: $29,300
Invalidation: $26,450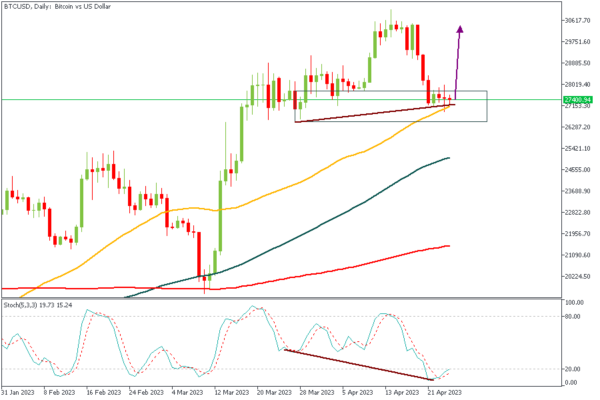 ETHUSD – Daily Timeframe
ETHUSD has a very similar outlook to the setup on BTCUSD. The consolidation here on ETHUSD has also lasted a few days and is within a demand zone. The 50-Day Moving Average support is another common confirmation. To top it off, we have a similar divergence setup. This means we can also begin to expect a bullish reversal soon.
Analysts' Expectations:
Direction: Bullish
Target: $2,060
Invalidation: $1,760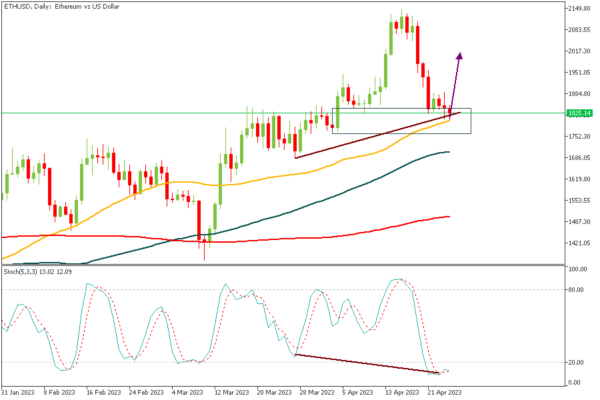 LTCUSD – Daily Timeframe
Litecoin (LTCUSD), on its own, has already reacted from the initial demand zone. There's not much to say about the demand zone, the stochastics divergence, and the 76% Fibonacci retracement level. The sentiment here is also largely bullish.
Analysts' Expectations:
Direction: Bullish
Target: $98.40
Invalidation: $82.50
P.S: A divergence is a phenomenon that describes a scenario where price makes higher highs on the charts whereas an oscillator indicator (such as the MACD, RSI, or Stochastics) records lower highs, or vice versa.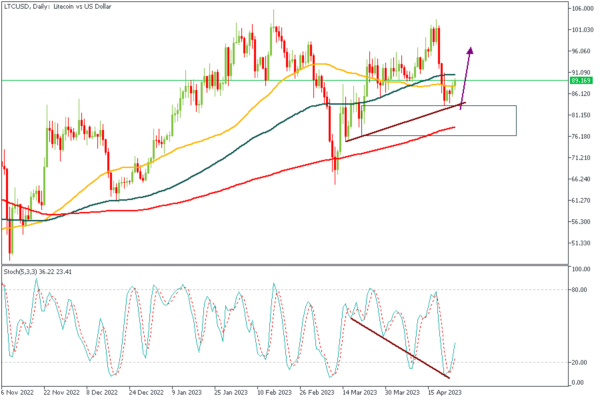 CONCLUSION
The trading of CFDs comes at a risk. Thus, to succeed, you have to manage risks properly. To avoid costly mistakes while you look to trade these opportunities, be sure to do your due diligence and manage your risk appropriately.