Oil prices rebounded slightly on Friday but are still expected to show losses for the week due to concerns about slowing growth in the US and China. US crude futures rose 2.7% to $70.41 per barrel, while the Brent contract increased by 2.5% to $74.33 per barrel. However, the Brent contract is more than 6% lower for the week, and the Nymex contract has fallen by over 8%. The market remains negative, suggesting there could be more downside in the near term, though support near $70 per barrel is expected. Despite the downturn, the crude market is still expected to be in deficit over the second half of 2023, which should drive prices up. Let's now go over to the charts to decipher whatever the price action has in store.
USDCAD – Daily Timeframe
USDCAD on the daily timeframe has just recently broken below the resistance trendline of a wedge pattern. The most recent low has been marked with a horizontal arrow, and I expect the price to create a new low that would be lower than that area. What this means is that the Canadian may get stronger, leading to higher Oil prices.
Analysts' Expectations:
Direction: Bearish
Target: 1.32795
Invalidation: 1.34540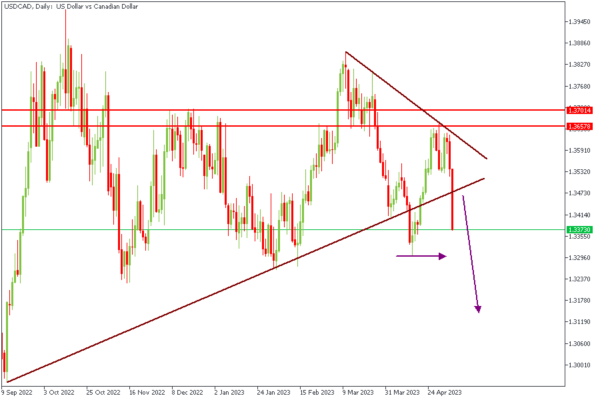 XTIUSD – Daily Timeframe
US Crude, as seen in the chart above, is trading within a descending channel, with a recent rejection of the trendline support of the same channel. Price will apparently head for the 200-period moving average, but I'll also cautiously watch for reactions from the 100 MA.
Analysts' Expectations:
Direction: Bullish
Target: $77.04
Invalidation: $69.58
XBRUSD – Daily Timeframe
Brent (XBRUSD) has recently bounced off the drop-base-rally demand zone within the descending channel it has been riding in for almost a year. The price action suggests that the price is in search of a strong resistance that may be capable of pushing prices lower; in the meantime, however, I think we're bullish until that resistance level is found – possibly at the 100-day moving average.
Analysts' Expectations:
Direction: Bearish
Target: $80.86
Invalidation: $74.71
The trading of CFDs comes at a risk. Thus, to succeed, you have to manage risks properly. To avoid costly mistakes while you look to trade these opportunities, be sure to do your due diligence and manage your risk appropriately.