Two conflicting fundamental factors are driving the short-term movement of the Aussie dollar.
RBA's hawkish rhetoric has provided a potential floor but a weak external environment due to China prevents bulls from taking an aggressive stance.
AUD/JPY key short-term support stands at 90.30 with major range resistance coming in at 92.10/92.80.
The Aussie dollar seems to be trapped by two conflicting fundamental factors in the short to medium-term horizon.
Firstly, the positive factor that supports potential strength in the Aussie dollar comes from the hawkish rhetoric portrayed by Australia's central bank, the Reserve Bank of Australia (RBA) after its surprise 25 basis points hike on its policy interest rate to 3.85% on 2 May.
Today's release of the minutes of RBA's monetary policy meeting for 2 May has revealed that policymakers were concerned about weak productivity growth that would trigger inflation risks, persistently high services inflation, and faster-than-expected rental increases that may require a further rise in interest rates.
In contrast, the current weak external environment is likely to have an adverse impact on the economic growth of Australia due to less demand for its top industrial-related commodities exports such as coal and iron ore.
In addition, the latest macro data from China; Australia's top trading partner suggests more evidence of a slowdown in its recovery spurt. Both consumer spending and industrial activities grew slower than expected in April. Industrial production grew by 5.6% year-on-year from 3.9% recorded in March but way below the consensus of 10.9%. Retail sales increased by 18.4% year-on-year, below the consensus of 21% but above March's print of 10.6%.
AUD/JPY Technical Analysis – May see a retest on its 92.10/92.80 major range resistance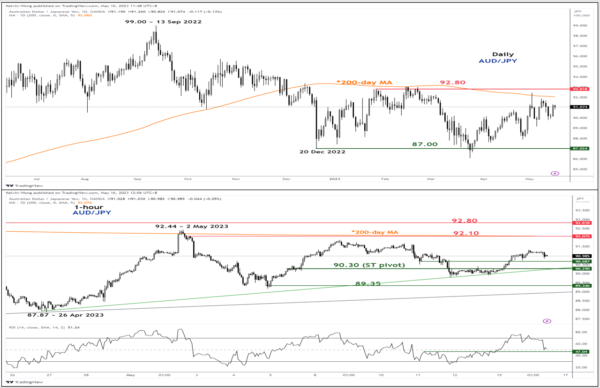 Fig 1:  AUD/JPY trend as of 16 May 2023 (Source: TradingView, click to enlarge chart)
Since its 20 December 2022 swing low of 87.00, the AUD/JPY cross pair has evolved into a major sideways range configuration below a key 200-day moving average that is acting as a resistance at a zone of 92.10/92.80 as seen from the daily chart.
In the shorter-term time horizon depicted by the hourly chart, the price actions of AUD/JPY have managed to trace out a series of "higher lows" that is being supported by a minor ascending trendline in place since the 26 April 2023 low of 87.87 that is now acting as a key short-term pivotal support at 90.30.
In addition, the hourly RSI oscillator has just managed to stage a bounce right above its corresponding support at the 47% level which suggests that potential short-term upside momentum remains intact.
The intermediate resistance to watch will be at 92.10. However, a break with an hourly close below 90.30 negates the bullish tone to expose the next support at 89.35 (swing low area of 5 May 2023 & ascending trendline from 24 March 2023 low).