After the 11th increase, the interest rate reached 5.5%.
At the same time, the US dollar weakened because:
market participants may consider this to be the last hike in the cycle (although Powell admitted the possibility of a rate hike in September);
the Fed is no longer considering a recession scenario, which has reduced the relevance of cash as a defensive asset. Reuters reports analysts saying Powell's tone has become more dovish.
The weakening of the US dollar led to an increase in the prices of currencies traded in tandem with the USD. Thus, the EUR/USD rate rose by 0.75% from the low of the week, where the support block is located:
level 50% of growth A→B;
median line of the ascending channel (shown in blue);
level 1.02, which worked as a resistance in June.
At the same time, the nearest resistance is at the level of 1.111, which was support last week. Pay attention to the rate of decline in the price on the EUR/USD chart on the 20th and 24th — a sign of the initiative of the bears. Will they be able to break through the support block, or will the bulls intend to use it as a support for a new swing within the channel shown in blue? There should be more arguments for reasoning after the news from the ECB is released today at 15:15 GMT+3.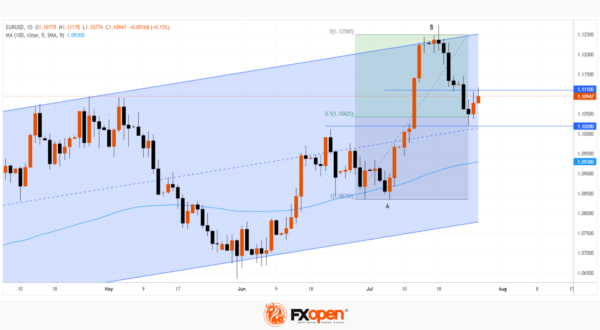 Trade global forex with the Innovative Broker of 2022*. Choose from 50+ forex markets 24/5. Open your FXOpen account now or learn more about trading forex with FXOpen.
* FXOpen International, Innovative Broker of 2022, according to the IAFT
This article represents the opinion of the Companies operating under the FXOpen brand only. It is not to be construed as an offer, solicitation, or recommendation with respect to products and services provided by the Companies operating under the FXOpen brand, nor is it to be considered financial advice.