As is the custom, every new month in the financial market often presents long-term, swing trading opportunities for traders like you and me. Even better, FBS is usually there to provide insights into the expected trading opportunities through such analytical pieces as this. So, keep reading, and let's review a few of these trade ideas together.
GBPJPY – D1 Timeframe
As I mentioned in a recent article, GBPJPY, after having broken out of a consolidation channel, returned for a retest of the turncoat trendline, which it had initially broken below. As a result, I expect a reaction from the supply zone to confirm my bearish sentiment and present me with reliable entry criteria. The rejection from that supply zone is the final piece of the puzzle I would be waiting for.
Analyst's Expectations:
Direction: Bearish
Target: 174.671
Invalidation: 184.168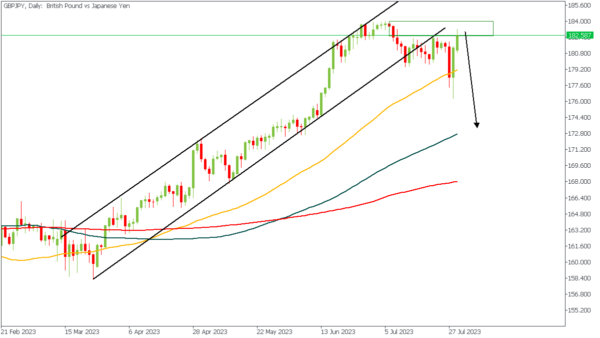 GBPAUD – D1 Timeframe
GBPAUD is retesting a major supply zone extending to the monthly timeframe. The initial movement had been rejected from the supply zone and trendline resistance earlier, so I expect to see a further drop from the same zone. Although the market is yet to present a proper break of structure, the price would nonetheless reach for the trendline support and the demand zone below it.
Analyst's Expectations:
Direction: Bearish
Target: 1.87287
Invalidation: 1.94012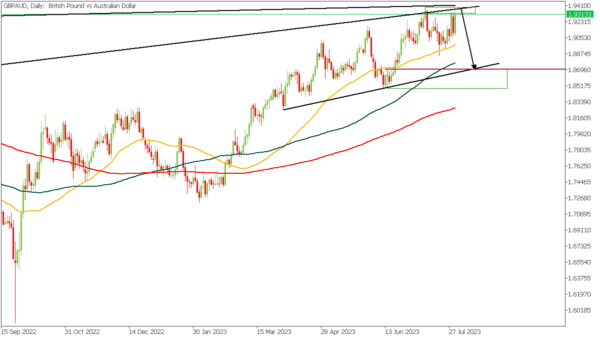 GBPUSD – D1 Timeframe
GBPUSD recently broke out of a consolidation channel and has completed a retest of the said trendline. Looking at the current price action, the break of structure, and the trendline retest, I expect to see a continuation of the downward movement. The rejection from the trendline is expected to push prices further down toward the demand zone between the 50 and 100 period moving averages.
Analyst's Expectations:
Direction: Bearish
Target: 1.27000
Invalidation: 1.28760
The trading of CFDs comes at a risk. Thus, to succeed, you have to manage risks properly. To avoid costly mistakes while you look to trade these opportunities, be sure to do your due diligence and manage your risk appropriately.