Euro currency traders are focused on the ECB meeting, the decision of which will be published today at 15:15 GMT+3. There will be a press conference at 3:45 p.m.
According to Reuters, the probability of a rate hike is about 60%. The figure stood at 50% at the start of the week as the ECB's updated forecasts expect inflation to remain above 3% next year, well above its 2% target.
At the same time, Australian dollar traders experienced a spike in volatility this morning following the release of strong labor market data in Australia. Last month, the number of employed people increased by almost 65,000 people — the second highest figure in 2023.
Today, the EUR/AUD chart forms an interesting picture from the point of view of technical analysis — the price has approached an important support zone formed by the levels 1.658-1.665:
→ The level of 1.665 has already shown its impact on the rate in September. Moreover, the long lower shadow on the last bearish candle with a false breakout indicates demand in this zone.
→ The 1.658 level is a former resistance that worked effectively in June-July, and after the breakout in August, the EUR/AUD price has not yet tested it.
→ The psychological level of 1.66 can provide support.
→ The lower boundary of the ascending channel (shown in blue) may also provide support.
And it is possible that if the price falls inside the zone, the bulls will try to take advantage of the chances and resume the upward trend.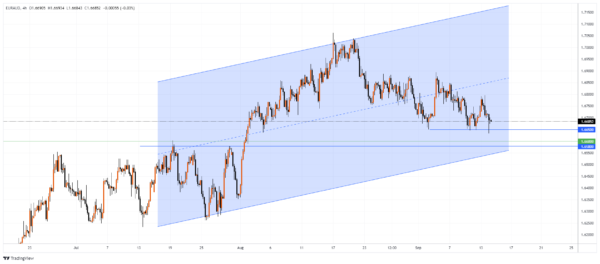 This article represents the opinion of the Companies operating under the FXOpen brand only. It is not to be construed as an offer, solicitation, or recommendation with respect to products and services provided by the Companies operating under the FXOpen brand, nor is it to be considered financial advice.