As the chart shows, the price of WTI oil has dropped below USD 77.50 – the last time prices were this high was in mid-July.
The decline in oil prices was contributed to by:
first, easing concerns about the escalation of the military conflict in the Middle East and interruptions in the supply of oil produced in the region;
 secondly, the data from Beijing. While China's crude oil imports rose in volume and value in October, the country's total exports fell 6.4% year on year, more than expected, CNBC reports. This points to a slowdown in demand in a world where central banks in many countries are keeping interest rates high to combat inflation.
Thus, supply forces prevail despite the fact that Russia and Saudi Arabia announced continued restrictions on oil production amid the conflict in the Middle East.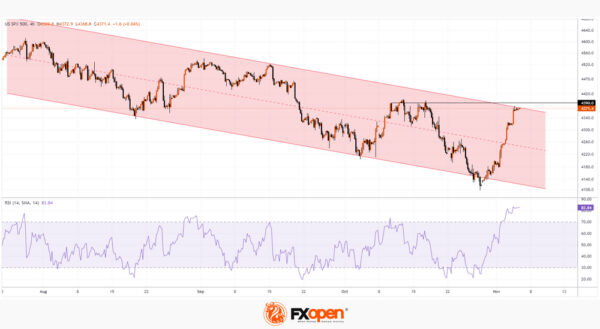 The oil price chart today shows that:
 the market is oversold, judging by the RSI indicator;
the price is near the lower border of the downward channel.
Therefore, the market is vulnerable to some price recovery from the oversold zone. If this happens, the price will form a false breakout of the August lows and could then test the USD 80.00 level. It is possible that this psychological level, which provided support on November 1-3 after yesterday's bearish breakout, will act as resistance — similar to what happened with the USD 82.50 level.
This article represents the opinion of the Companies operating under the FXOpen brand only. It is not to be construed as an offer, solicitation, or recommendation with respect to products and services provided by the Companies operating under the FXOpen brand, nor is it to be considered financial advice.