EUR/USD Bouncing lower.
EUR/USD has failed to hold above former resistance given at 1.0874 (08/12/2017 high). Hourly support is given at 1.0719 (21/03/2017 low). Stronger support can be found at 1.0493 (22/02/2017 low). Expected to show renewed bullish pressures.
In the longer term, the death cross late October indicated a further bearish bias. The pair has broken key support given at 1.0458 (16/03/2015 low). Key resistance holds at 1.1714 (24/08/2015 high). Expected to head towards parity.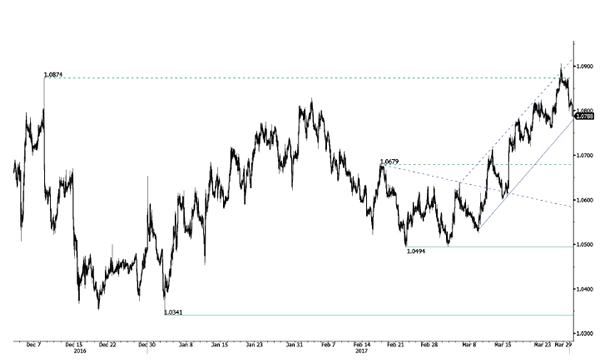 GBP/USD Bearish consolidation.
GBP/USD has exited short-term uptrend channel. We consider that there are still rooms for further strength. Hourly resistance is located at 1.2615 (27/03/2017 high). Hourly support is given at 1.2324 (03/17/2017 low). Expected to show continued strength towards resistance at 1.2771 (05/10/2016 high).
The long-term technical pattern is even more negative since the Brexit vote has paved the way for further decline. Long-term support given at 1.0520 (01/03/85) represents a decent target. Long-term resistance is given at 1.5018 (24/06/2015) and would indicate a long-term reversal in the negative trend. Yet, it is very unlikely at the moment.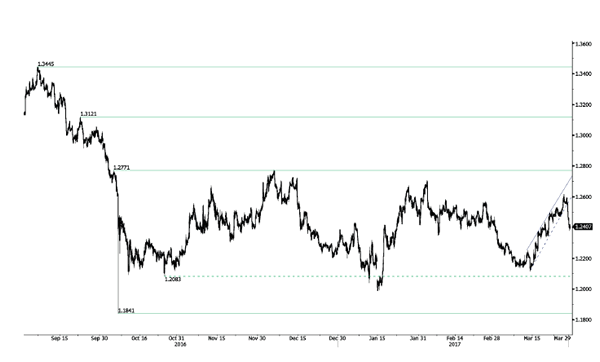 USD/JPY Bearish pressures are fading.
USD/JPY's bearish pressures are fadingHourly resistance can be located at 113.57 (16/03/2017 high) while support is given at 110.11 (27/03/2017 low).
We favor a long-term bearish bias. Support is now given at 96.57 (10/08/2013 low). A gradual rise towards the major resistance at 135.15 (01/02/2002 high) seems absolutely unlikely. Expected to decline further support at 93.79 (13/06/2013 low).