With forex brokers and traders all talking about the upcoming French Election, it is an ideal time to take a closer look at EUR/USD.
Starting with the higher time frame, weekly chart, we can see that EUR/USD has depreciated sharply over the last couple of years, with exaggerated moves following Brexit and the Trump election.
The top of the above weekly support zone is just this EUR/USD 4 hourly support that we spoke about on the blog following the Fed's rate hike and subsequent small rip (you can click that highlighted link to go back and view the charts we from the start of March and then carry on to what we see today), but overall EUR/USD has been in overall decline for a very long time:
EUR/USD Weekly: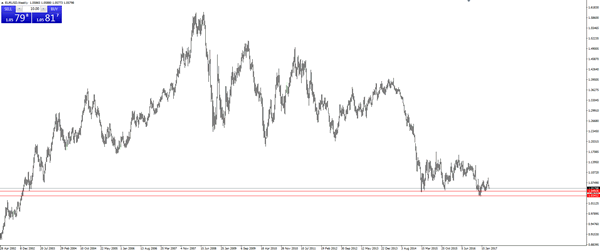 Drilling in a little further and taking a look at an intraday, 4 hourly chart, we can see that on the way back down toward the support zone, it is now also testing trend line support:
EUR/USD 4 Hourly: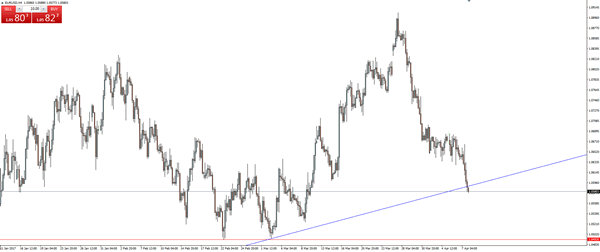 Zoom out on your own MT4 charts and you can clearly see the lows that I used to draw the line. There are obviously a few slight variations that you could use to draw the line, but that's just the subjective nature of trend lines and part of the game.
The trend line is obviously very subjective, so for me it's now all about whether EUR/USD can bite here while it's still above the weekly support zone and ultimately find some short term resistance turned support to kick off of.
There are a few scenarios that we will look to go over on social media, so make sure you send us some screenshots of your charts so we can share them with the forex trading community.