DOW's selloff accelerates as tech rout intensifies. The index hits as low as 23577 so far and is down nearly -2% at the time of writing. The break of 23708.73 minor support now suggests that recent decline is resuming. We'll likely see a break of 23725.12 soon and DOW should be heading to 23360.29 support next (probably later this week).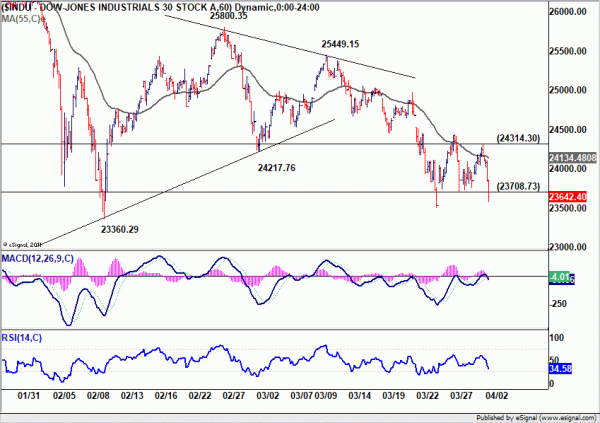 Trump's bashing of Amazon again is quoted by some as a reason for the tech selloff. He tweeted:
"Only fools, or worse, are saying that our money losing Post Office makes money with Amazon. THEY LOSE A FORTUNE, and this will be changed. Also, our fully tax paying retailers are closing stores all over the country…not a level playing field!"
To us, it's amusing that he doesn't direct his attack to the Post Office if what he "claims" is true. They're the one responsible for losing money on the deal. When a seller lose money, it's the buyer's fault? But then, when a buyer country lose money, it's the seller country's fault? Anyway…
EUR/USD's selloff finally pick up steam and breaches 1.2285 support. Break of 1.2285 will confirm completion of the three wave rebound from 1.2154. And deeper fall should then seen seen through 1.2238 for a test on 1.2154. There would be chance that whole decline from 1.2555 is resuming too.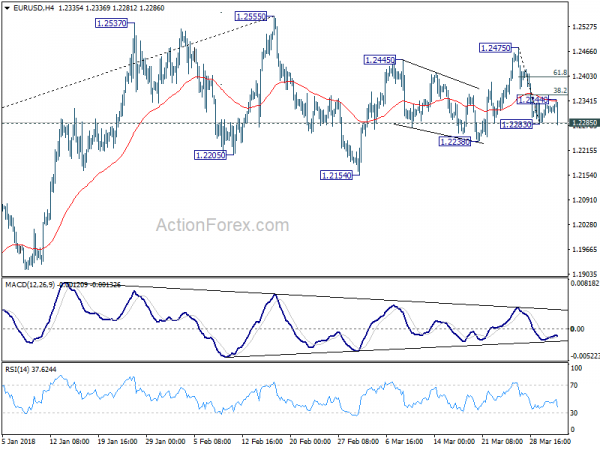 But is the USD that strong? Just take a look in USD/JPY and you'll see.