Entering into US session, Dollar turned weak earlier today and failed to sustain gains. On the other hand, the Japanese Yen is holding broadly firm. Australian Dollar and New Zealand Dollar turned the corner. Much focus will be on US treasury yields and some solid gain there is needed to give the greenback some support. Otherwise, recent correction will likely continue with some more downside potential in the greenback.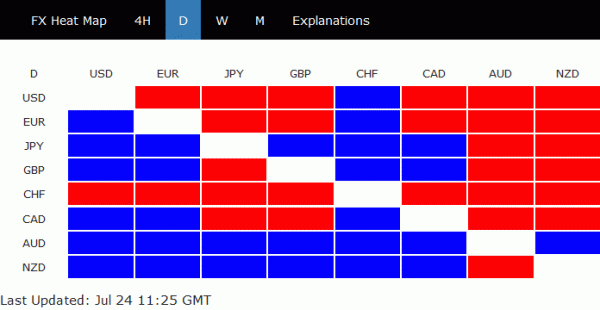 In other markets, Europe indices are trading generally higher, with DAX up 1.34%, CAC up 0.81% and FTSE up 0.81% at the time of writing. That follows the strong rally in Asian equities. China Shanghai Composite jumped 1.61% to 2905.56 as boosted by the governments stimulus policies. While the announce measures are just fine-tunings and are hardly anything dramatic, that's seen as a sign of the director where the Chinese government is heading towards. That is do more to support growth.
The SSE's rebound is set to extend to 55 day EMA (now at 2944.64) and above. But for now, we're seeing no reason for it to regain 3000 handle.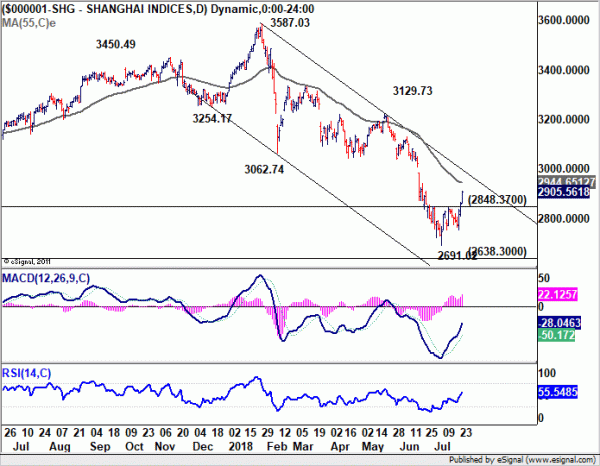 Nikkei also rose 0.51% to close at 22510.48 and pared back much of Monday's loss. However, the day high was seen at the open at 22555.05 and there was no follow through momentum back then. Overall strength of support from the 55 day EMA is rather weak. We'll keep monitor this level, which will decide whether Nikkei would head for test on 21462.94 support before an upside breakout.