Solid risk appetite and surging treasury yields are the main theme in the financial markets today. At the time of writing, DOW is up over 190pts or 0.73% at 26438.91. S&P 500 trails and is up 0.23%. But NASDAQ lags behind. US treasury yields continue to show tremendous trend, in particular in the long end. 30 year yield is currently up 0.030, 10 year yield 10 up 0.028 and five yield up 0.021. In Europe, FTSE gained 0.42%, DAX rose 0.50% and CAC added 0.56%.
In the currency markets, Swiss Franc remains the weakest one for the day. Dollar gets no support from yield and is the second weakest. Sterling experienced a roller coaster ride on strong CPI and negative Brexit news. But for now, the Pound is patiently awaiting the outcome of the EU summit in Austria. Commodity currencies are the strongest ones, led by Australian Dollar.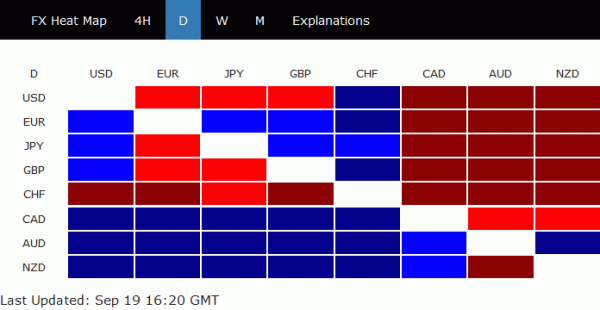 DOW is having a rather strong rally this week and it shows upside acceleration with daily MACD back above signal line too. Current momentum suggests that DOW will soon challenge 26616.71 record high and should take it out without much difficulty. This will stay the preferred case as long as 26030.35 support holds.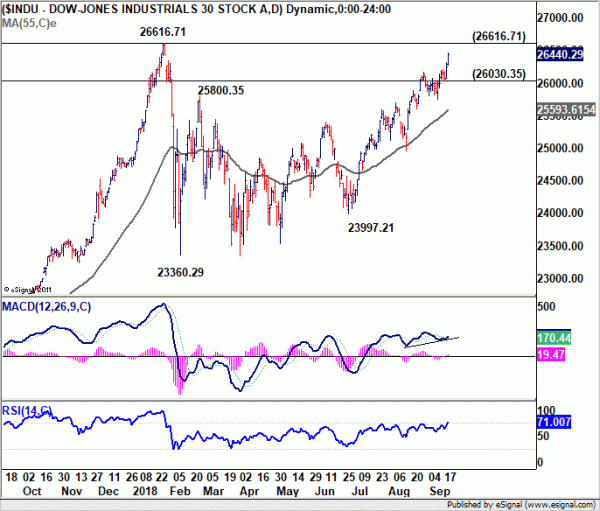 TNX's rally is showing rather strong upside acceleration as seen in daily MACD. 3.115 key resistance should be challenged soon too. It's early to tell but based on current momentum, it shouldn't be too difficult to break this key resistance level decisively. And with such developments, Dollar should eventually follow and stage strong rally against other major currencies. It's just a matter of time.