Dollar tries to extend post FOMC rally today but there is little success so far. Firstly, the greenback is overshadowed by Yen and Swiss Franc. Yen is clearly lifted by risk aversion. Meanwhile, Swiss Franc trades higher on some mild weakness in emerging market currencies like Rand and Lira. Secondly, there is no technical breakthrough in Dollar pairs today. USD/HF is limited below 1.0094 resistance. EUR/USD is held well above 1.1300 key support. And even GBP/USD and AUD/USD are held well above 1.2951 and 0.7182 minor support levels respectively.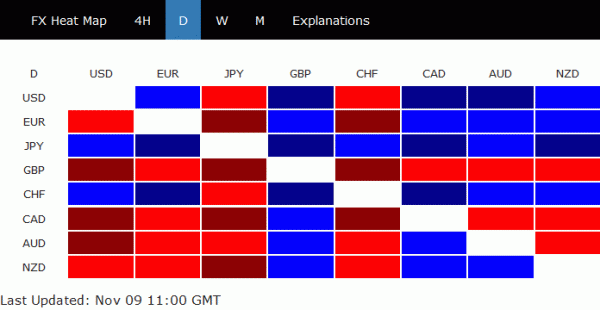 Sterling is trading as the weakest one even though Q3 GDP grew 0.6% as expected. But September's monthly GDP miss raises some doubt over the outlook ahead. And there is never-ending Brexit negotiation, without any progress on Irish border backstop. Canadian Dollar follows as the second weakest, and the Australian Dollar.
In European markets, all major indices are down at the time of writing.
FTSE is down -0.86%
DAX is down -0.73%
CAC is down -1.01%
German 10 year yield is down -0.0271 at 0.433
Italian 10 year yield is up 0.030 at 3.432… spread is pressing 300 again
Asian indices also closed broadly down
Nikkei dropped -1.05% to 22250.25
Hong Kong HSI dropped -2.39% to 25601.92
Shanghai SSE dropped -1.39% to 2598.87
Singapore Strait Times dropped -0.49% to 3077.97
Is SSE's corrective rebound from 2449.19 completed ahead of 55 day EMA? Probably.