Germany PMI manufacturing dropped to 51.5, down from 51.8, missed expectation of 51.7. It's a 33-month low. PMI services dropped to 52.5, down from 53.3, missed expectation of 53.5. It's the lowest in 7 months. PMI composite dropped to 52.2, down from 52.3, a 48-month low.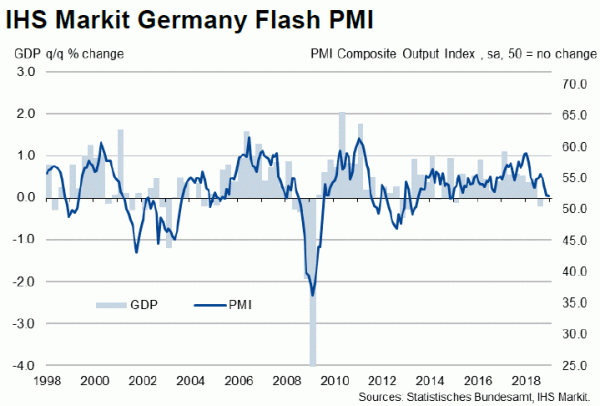 Commenting on the flash PMI data, Phil Smith, Principal Economist at IHS Markit said:
"The PMI data disappointed again in December, indicating the continuation of only a modest rate of underlying growth across Germany's private sector. Furthermore, with new orders close to stalling in December and firms reporting reduced optimism towards the outlook, there's a lack of momentum heading into the New Year.
"It's a stark contrast from the situation this time last year. Reports of an economy close to overheating have been supplanted by concerns about an increasingly uncertain political backdrop, trade wars and a struggling autos industry.
"The survey's measures of output and new orders diverged further from that of employment as December saw another solid – and slightly accelerated – round of job creation across both manufacturing and services. With firms now eating into backlogs of work at a faster rate, the indication is that a renewed slowdown in hiring is increasing likely."