Italy PMI services rose to 50.4 in February, up from 49.7 and beat expectation of 49.5. Markit noted that "activity rises slightly in February", "new orders fall for first time since February 2015", and there was "third consecutive fall in selling prices".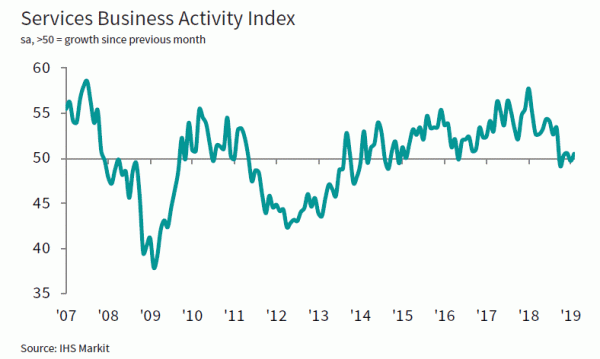 Commenting on the PMI data, Amritpal Virdee, Economist at IHS Markit said:
"With the Italian economy currently in a recession (its third in the past ten years), February's Italian Services PMI data did not provide much sign of relief.
"Inflows of new business contracted for the first time in four years, amid the third month of falling output charges, signalling that attempts by service providers to stimulate customer demand are not always proving effective.
"Despite positive signs in the form of an increase in payroll numbers and an up-tick in optimism, the latest PMI data indicates that the private sector remains on course for a further contraction in the first quarter of 2019."