A couple of US trade policy news are giving market sentiment a mild lift in early part of US session. It's clear that the trade talks with China collapsed even though Trump denied it. Trump now appears to be backing down from his hard-line trade stance against the country's  closest allies in Canada and EU.
Firstly, US Treasury Secretary Steven Mnuchin confirmed himself that he's going to China soon to continue trade negotiations. He said, "my expectation is that we will go to Beijing at some point in the near future to continue those discussions…. We're continuing discussions. There's still a lot of work to do."
Secondly, Mnuchin also indicated that US is very close to resolving steel and aluminum tariffs on Canada and Mexico. Separately, it's reported that Trade Representative Lighthizer is scheduled to meet Canadian Foreign Minister Chrystia Freeland again. Lighthizer will bring forward a proposal to remove such national security steel and aluminum tariffs.
Thirdly and most importantly, an unnamed source was quoted saying that Trump will delay the decision on auto tariffs by up to six months. The original decision is due this Saturday, May 18. It reported that the White House has held a series of high-level meetings on the issue in recent days. And automaker official were repeatedly told that the decision will be delayed. But White House declined to comment.
DOW dived to as low as 25341.91 in early trading but it's now back up 0.4%, above 25600. 10-year yield also hit as low as 2.361 but it's back at 2.389 now. Still, 10-year yield below 2.4 is a serious sign of risk aversion.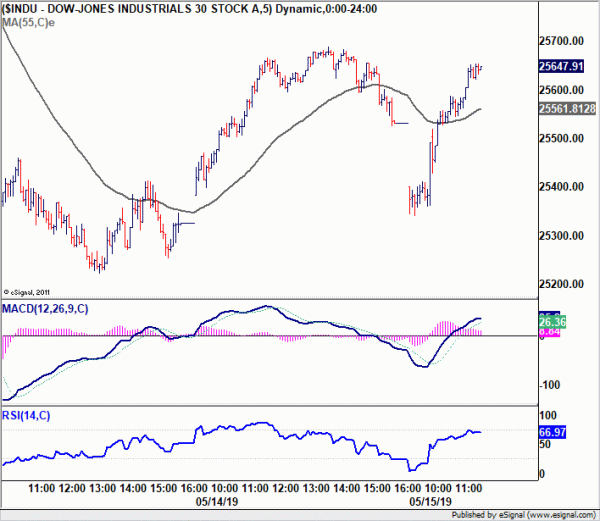 In Germany, DAX dropped to as low as 11862.21 earlier today but closed up 0.86% at 12904.74. German 10-year yield reached as low as -0.131 earlier today and it's back at -0.095 at the time of writing. German yield is pressured by concerns over Italy's budget. Postponing auto tariffs just delay the problem, not solve it. And, it certainly couldn't solve the unrelated problem of Italy.