OECD lowered global growth forecast to 3.2% in 2019, down from March projection of 3.3%. Chief Economist Laurence Boone warned that "the fragile global economy is being destabilized by trade tensions." And, growth is stabilizing but the economy is weak and there are very serious risks on the horizon. Governments need to work harder together to ensure a return to stronger and more sustainable growth."
On US-China trade war, OECD warned that an intensification of trade restrictions would have significant costs. The new tariffs and measures announced this month could reduce GDP growth in US and China by 0.2-0.3% on average by 2021 and 2022. Under the scenarios of additional 25% tariffs on essentially all remaining bilateral trade between US and China, "the short term costs are considerably higher and broader". Global trade could be reduced by 1% by 2021. US GDP could dropped by 0.6% while China GDP could drooped by 0.8%.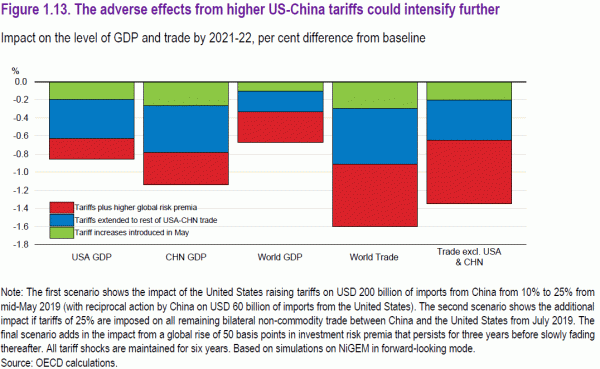 However, it should also be noted that GDP growth projection was revised up by 0.2% to 2.8% in 2019 and by 0.1% to 2.3% in 2020. OECD said "in the absence of further shocks, the economy is on track to continue its solid expansion and grow
somewhat faster than the rest of the OECD on average".
Summary of new growth projections :
2019 global at 3.2%, down from 3.3% (March forecast)
2020 global at 3.4%, unchanged
2019 US at 2.8%, up from 2.6%
2020 US at 2.3% up from 2.2%.
2019 Eurozone at 1.2%, up from 1.0%
2020 Eurozone at 1.4% up from 1.2%
2019 Japan at 0.7%, down from 0.8%
2020 Japan at 0.6%, down from 0.7%
2019 UK at 1.2%, up fro 0.8%
2020 UK at 1.0%, up from 0.9%
2019 China at 6.2%, unchanged
2020 China at 6.2%, unchanged