In May, Eurozone PMI manufacturing dropped to 47.7, down from 47.9 and missed expectation of 48.1. PMI services dropped to 52.5, down from 52.8 and missed expectation of 53.0. PMI Composite rose to 51.6, slightly up from 51.5. Markit noted that "the weak reading puts growth in the second quarter so far on a par with the lacklustre gain seen in the first quarter and is among the lowest recorded since mid-2013."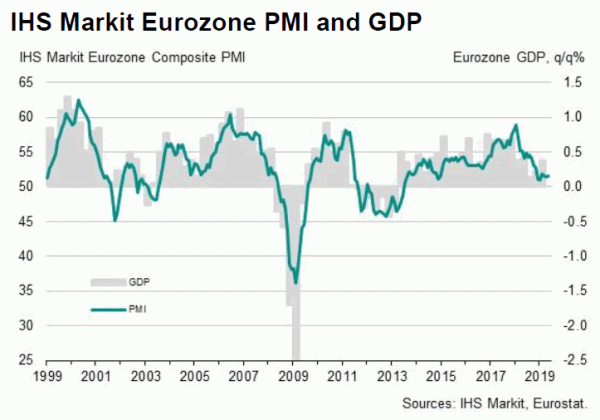 Commenting on the flash PMI data, Chris Williamson, Chief Business Economist at IHS Markit said:
"The eurozone economy remained becalmed in the doldrums in May, adding to signs that only modest growth will be achieved in the second quarter. At current levels the PMI is so far indicating GDP growth of only 0.2% in the second quarter.
"A renewed deterioration in optimism about the year ahead suggests that the business situation could deteriorate further in coming months. Worries reflected concerns over lower economic growth forecasts, signs of weaker sales and rising geopolitical uncertainty, with escalating trade wars and auto sector woes commonly cited as specific causes for concern.
"Sector divergences remain marked, with manufacturing still in decline and the region therefore reliant on the service sector to support growth.
"While some encouragement can be gained from the manufacturing sector showing signs of its downturn having bottomed out in March, the concern is that the slowdown is spreading to the service sector, where new business growth has slipped to one of the weakest seen since 2014.
"Germany is on course for a 0.2% expansion of GDP in the second quarter while the survey for data France point to a meagre 0.1% gain. However, the bigger concern is for the rest of the region, which collectively saw growth falter amid the first fall in orders for almost six years."