US stocks open higher, following German DAX, as lifted by ECB President Mario Draghi's hint on further stimulus. Stocks was then further lifted by Trump's tweet regarding phone conversation with Chinese President Xi Jinping. Trump said they're going to have an "extended meeting" at G20 in Osaka, Japan, next week. And the "respective teams will begin talks prior to our meeting". DOW is currently up more than 330 pts, or 1.3%. S&P 500 and NASDAQ are up 1.1% and 1.7% respectively. On the other hand, 10-year yield is down -0.0023 at 2.064, recovered notably from day low at 2.029.
Had a very good telephone conversation with President Xi of China. We will be having an extended meeting next week at the G-20 in Japan. Our respective teams will begin talks prior to our meeting.

— Donald J. Trump (@realDonaldTrump) June 18, 2019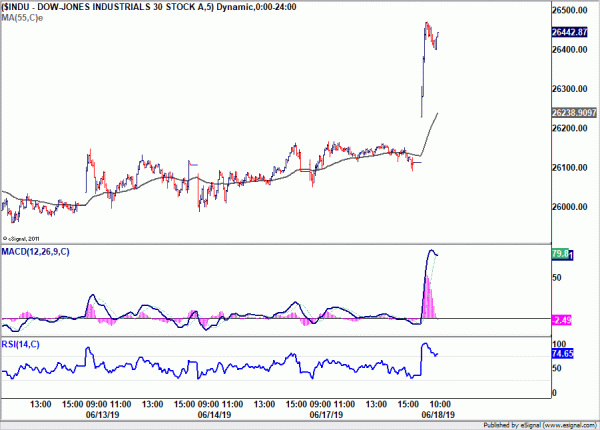 Meanwhile, one important thing to note is that Fed will have less pressing need to have "insurance" rate cut if US-China trade tensions ease. On the other hand, ECB is on track for more stimulus. Thus, we might actually see further decline in EUR/USD, thanks to both Draghi and Trump. Trump might have complained that Draghi made it "unfairly easier" for Eurozone to compete against the US. It's also that easy for him to give advantages to Eurozone too, and he did it.
Mario Draghi just announced more stimulus could come, which immediately dropped the Euro against the Dollar, making it unfairly easier for them to compete against the USA. They have been getting away with this for years, along with China and others.

— Donald J. Trump (@realDonaldTrump) June 18, 2019