Germany PMI Manufacturing rose to 48.3 in November, up from 42.1, beat expectation of 43.0. However, PMI Services dropped to 51.3, down from 51.6, missed expectation of 52.0. That's also a 38-month low. PMI Composite rose to 49.2, up from 48.9, hit a 3-month high.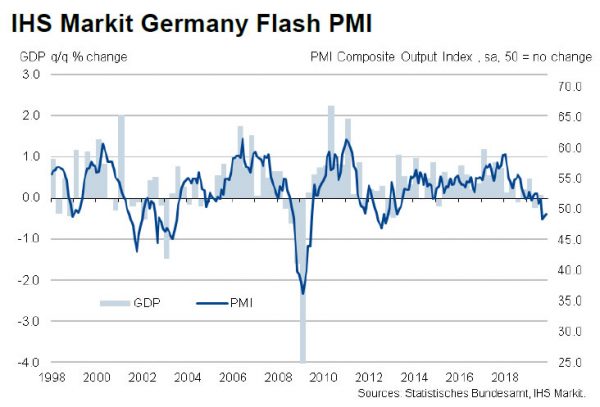 Commenting on the flash PMI data, Phil Smith, Principal Economist at IHS Markit said:
"Beneath the subdued headline numbers the data show another slight convergence between the more domestically-focused service sector and export-led manufacturing.
"While still showing a degree of resilience, the service sector is growing only modestly and at its slowest rate for over three years. By contrast, manufacturing remains firmly in contraction, but many of the indicators here are at least moving in the right direction and it would seem the worst of the downturn is over barring any shocks.
"A lack of employment growth remains a worry, but the survey data do at least point to support to consumer spending from low inflation and rising wages."