Eurozone PMI Manufacturing is finalized at 46.9 in November, up from October's 45.9. Markit noted milder falls in new orders and output recorded during the month. But job losses sustained despite improve in confidence. Looking at the member states, Germany PMI Manufacturing improved to 5-month high of 44.1, but stayed well below 50 no-change mark. The Netherlands dropped to 49.6, a 77-month low. Only Greece and France were above 50.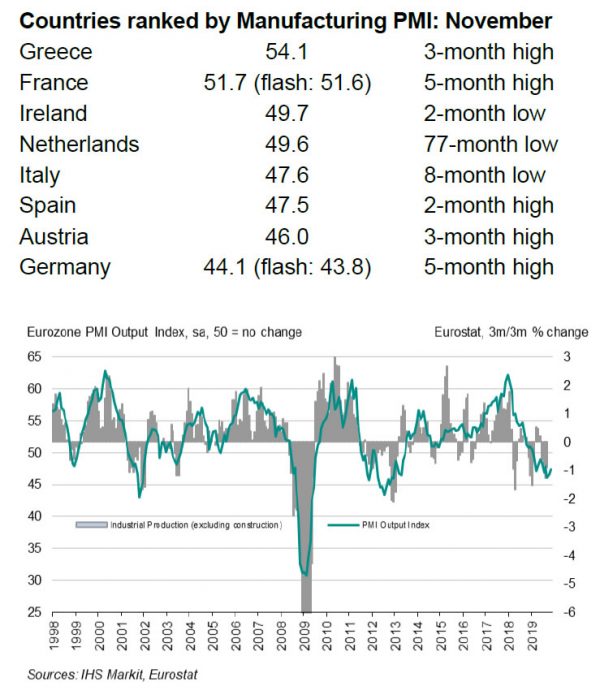 Commenting on the final Manufacturing PMI data, Chris Williamson, Chief Business Economist at IHS Markit said:
"A further steep drop in manufacturing output in November means the goods-producing sector is likely to have acted as a major drag on the eurozone economy again in the closing quarter of 2019. The survey data for the fourth quarter so far are indicating a quarterly rate of contraction in excess of 1% for manufacturing.
"Although still signalling a steep rate of decline, the manufacturing PMI nonetheless brings some encouraging signals which will fuel speculation that the worst is over for euro area producers, barring any new set-backs (notably in relation to Brexit and trade wars). In particular, November saw the rate of loss of export sales easing further from July's recent record, helping pull other indicators such as output, employment, order books and purchasing off their recent lows.
"Perhaps most promising is a marked upturn in business sentiment, particularly in Germany, with optimism about production in the year ahead hitting a five-month high in November. Producers' renewed optimism in part reflects reduced concerns over trade wars. We nevertheless still need to see a further notable easing in the rate of loss of orders before getting too excited about the prospect of an imminent return to growth for manufacturing."