Eurozone unemployment rate was unchanged at 7.5% in November, matched expectations. That's the lowest rate since July 2008. The number of persons unemployment dropped by -10k for the month, to 12.315m.
EU28 unemployment was unchanged a 6.3%, a record low since January 2000. Among the Member States, the lowest unemployment rates in November 2019 were recorded in Czechia (2.2%), Germany (3.1%) and Poland (3.2%). The highest unemployment rates were observed in Greece (16.8% in September 2019) and Spain (14.1%).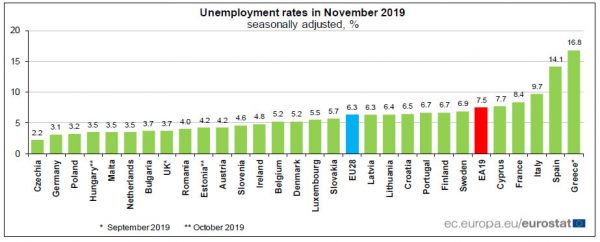 Also released in European session, Germany industrial production rose 1.1% mom in November, beat expectation of 0.7% mom. Trade surplus narrowed to EUR 18.3B, below expectation of EUR 20.9B. Swiss retail sales rose 0.0% yoy in November, below expectation of 0.5% yoy.