Risk aversion continues to dominate the markets as there is little sign of slowdown in the outbreak of coronavirus in China. According to Chinese state television, confirmed infections rose to 2835, up from 2744 reported at the start of the day. Death tolls remains unchanged at 81.
Commodity currencies are trading deeply lower today, as led by Aussie. Yen and Swiss Franc are the strongest on risk aversion naturally. Dollar is following as third strongest.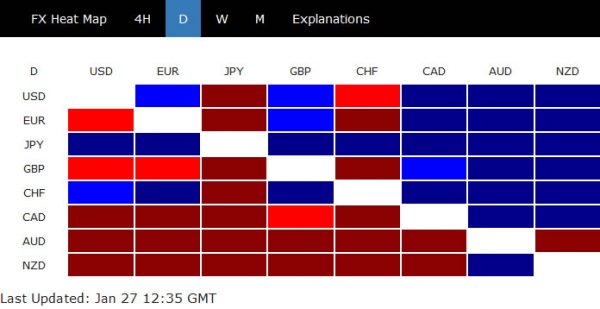 In Europe, FTSE, DAX and CAC are all down more than -2.0%. German 10-year yield is down -0.0292 at -0.362. DOW future is currently down -400 pts. Gold hit as high as 1588.51 in initial trading but there is no follow through buying so far. WTI crude oil hit as low as 52.01 but turned sideway since then.