UK PMI Manufacturing rose to 51.9 in February, up from 50.0, beat expectation of 49.7. That's also the highest level in 10 months. PMI Services, however, dropped to 53.3, down from 53.9, missed expectation of 53.4. PMI Composite was unchanged at 53.3.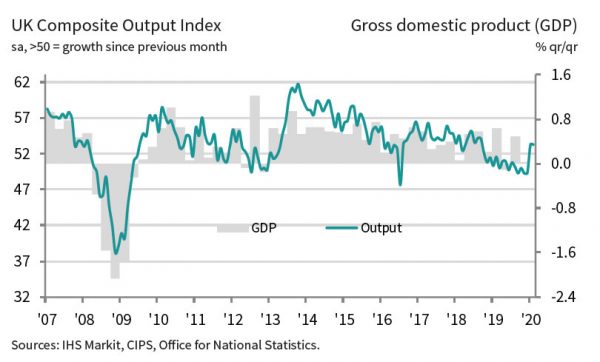 Tim Moore, Associate Director at IHS Markit, said:
"UK private sector growth held its ground in February as a stronger contribution from manufacturing output helped to keep overall business activity on a stronger path than any time since September 2018. The latest survey also revealed a solid upturn in the service economy, driven by improving domestic spending and a recovery in new business enquiries since the start of 2020.
"The recent return to growth signalled by the manufacturing and services PMIs provides a clear indication that the UK economy is no longer flat on its back, with our GDP nowcast pointing to 0.2% growth through the first quarter of the year.
"While there are positive signals for UK businesses on the domestic front, the latest PMI findings highlight a number of concerns from an international perspective following the COVID-19 outbreak. Service providers often commented on reduced tourism-related bookings and cancellations from overseas clients in affected markets.
"Manufacturers noted that abrupt shortages of components from China had reverberated through their supply chains and led to difficulties sourcing critical inputs. The downward trajectory of the suppliers' delivery times index since January was the steepest since the survey began, exceeding the previous record set amid the UK fuel protests in September 2000.
"Stocks of inputs dropped at the fastest pace for just over seven years in February as supply chain bottlenecks in Asia amplified the swing in the inventory cycle from Brexit-related destocking. Some manufacturing firms suggested that rising export demand from clients in the US and Europe had added to pressure on the availability of materials, although there were only sporadic reports that component shortages had disrupted production schedules in February."