New Zealand employment dropped -0.4% qoq in Q2, much smaller than expectation of -1.9% qoq. Unemployment dropped -5.1% qoq. Unemployment also surprised and dropped to 4.0%, down from 4.2%, way better than expectation of 5.7% . However, labor force participation rate also -0.8% to 69.7%. Labor cost index rose 0.2% qoq, below expectation of 0.4% qoq. Also, total weekly paid hours dropped -3.4% while actual weekly hours worked dropped -10.3%.
Both employment and unemployment fell in the quarter, as more people were not even in the labor force. Work hours dropped more sharply than employment, reflecting reduced hours worked during lockdown by the people remain employed.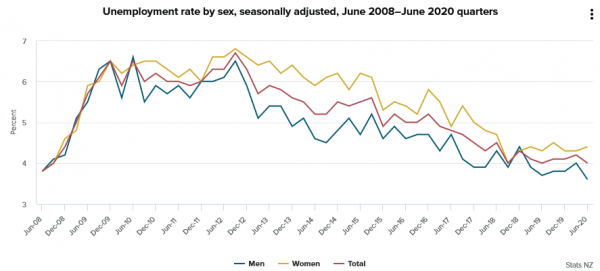 NZD/USD recovers mildly after the release but that's mainly following Dollar's broad-based weakness. Conditions for a correcting is building up with bearish divergence condition in 4 hour and daily MACDs. It's also just ahead of 0.6755 key resistance. Sustained break of 0.6584 should at least bring deeper pull back to 0.6385 and below. But sustained break of 0.6755 might bring another round of upside acceleration.