Australia NAB Business Confidence improved to -8 in August, up from -14. However, Business Conditions dropped to -6, down from 0. All conditions components deteriorated, with trading down from 1 to -2, profitability down from 1 to -3, employment down form -2 to -13.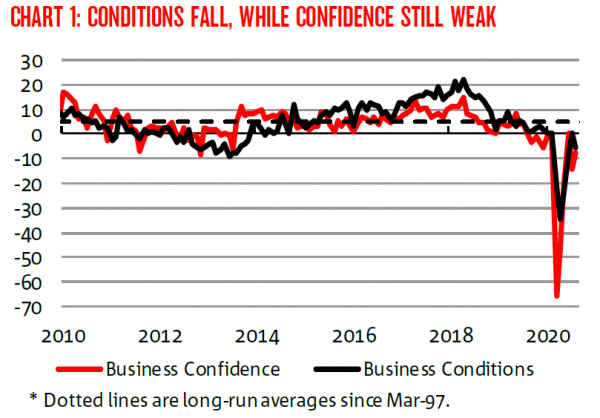 Alan Oster, NAB Group Chief Economist said the weakness in conditions was "primarily driven by a deterioration in the employment index – suggesting that while the economy has generally begun to open up, the labour market is still weakening". The deteriorations was also "broad-based across the states", suggests that the "virus continues to pose a risk everywhere, not just states with significant containment measures in place". Confidence also "remains fragile", still negative. it will "continue to be impacted by news around the virus"
"Given the sheer magnitude of the fall in activity in Q2 and the subsequent lockdowns in Victoria, it's is likely we will see a protracted recovery and a rise in the unemployment rate before it gets better. Policy makers have provided unprecedented support – but we think there will need to be more. This would help businesses and the economy recover more quickly and the focus can again return to growth", Oster added.