The OECD said in its latest Economic Outlook report that the global economy will grow 4.2% in 2021, after contracting -4.2% this year. Growth is then expected to slow to 3.7% in 2022.
US GDP is expected to contract -11.2% in 2020, rise 4.2% in 2021, then 4.1% in 2022.
Eurozone GDP is expected to contract -7.5% in 2020, rise 4.6% in 2021 and then 3.3% in 2022.
China's GDP is expected to grow 1.8% in 2020, surge to 8.0% in 2021, and then slow to 4.9% in 2022.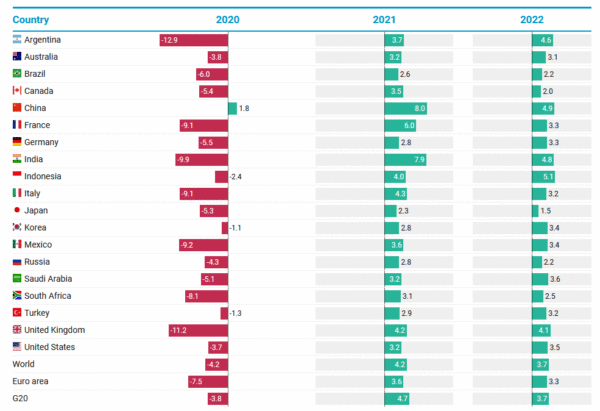 OECD added: "The recovery would be stronger if vaccines are rolled out fast, boosting confidence and lowering uncertainty. Delays to vaccination deployment, difficulties controlling new virus outbreaks and failure to learn lessons from the first wave would weaken the outlook."
"We're not out of the woods. We're still in the midst of a pandemic crisis, which means that policy still has a lot to do," said OECD chief economist Laurence Boone.