Bitcoin has showcased remarkable resilience amid recent turmoil in financial markets, prompting discussions about its potential status as a safe-haven asset. The leading cryptocurrency has outperformed traditional safe havens such as gold this week, further fueling this debate.
Interestingly, Bitcoin has displayed a correlation with the NASDAQ index, suggesting that it may serve as a leading indicator or confirmation signal for risk appetite, particularly in the technology sector. It's could still be more of a tech sector barometer.
In either case, the breakthrough of 25242 resistance indicates that rally from 15452 is resuming. More significantly, the break above the 55 week EMA and 25198 structural resistance suggests that Bitcoin is now in the midst of correcting the entire downtrend from its 2021 record high of 68986, as a medium term move.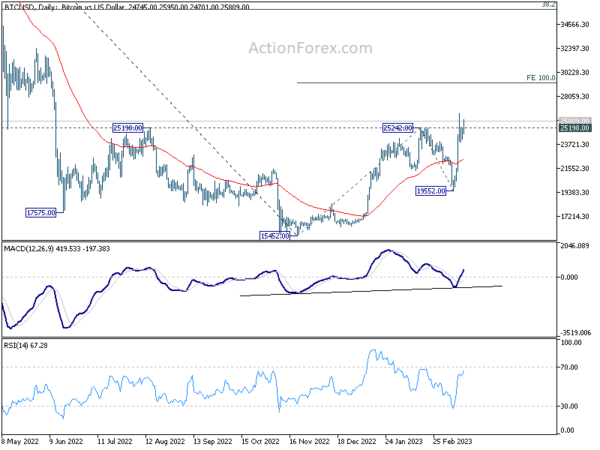 In the short term, further gains are expected, with a target of 100% projection of 15452 to 25242 from 19552 at 29342. The market's reaction at this level will provide insight into the potential trajectory of the medium-term rise from 15452.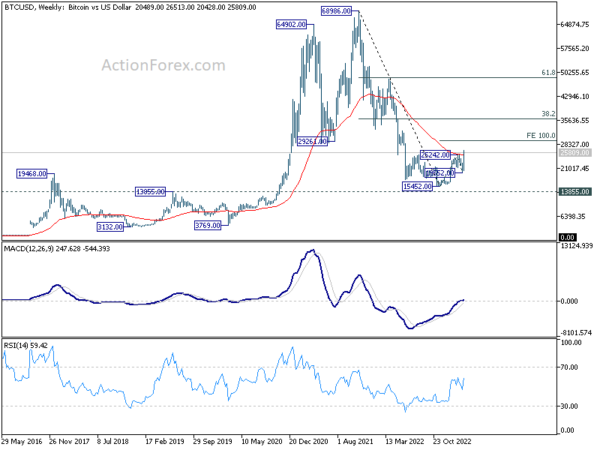 Additionally, the momentum of Bitcoin's ascent could be an important factor in determining the likelihood of NASDAQ breaking through the 12269.55 resistance level.
As market participants keep a close eye on these developments, Bitcoin's performance may hold broader implications for the technology sector and the overall market sentiment.