As seen from the latest Quarterly RBNZ Survey of Expectations, businesses have slightly tapered their inflation expectations in the near term but wage inflation expectations were on the rise. RBNZ OCR is expected to be unchanged at the current 5.50% through the quarter.
Expectations for annual inflation one year ahead have moderated, moving from 4.28% to 4.17%. However, a two-year horizon sees a marginal uptick in these expectations, which have climbed from 2.79% to 2.83%.
More long-term views, reflected in the five and ten-year ahead inflation expectations, both indicate a pullback, dropping to 2.25% (from 2.35%) and 2.22% (from 2.28%), respectively.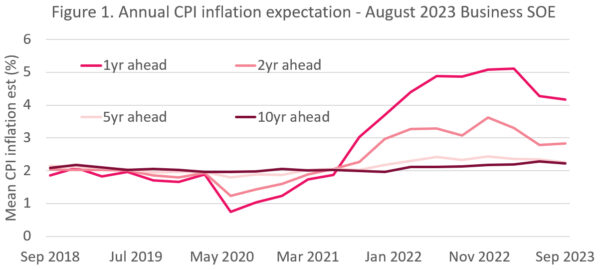 A notable area of concern stems from the annual wage inflation expectations. Over the course of both one and two years, these expectations are on the rise. For the year ahead, expectations climbed from 4.80% to 5.04%, and for the two-year mark, they increased from 3.53% to 3.66%.
Regarding monetary policy, the survey results indicate a stable outlook on the OCR. By the close of the September 2023 quarter, businesses anticipate OCR to average around 5.53%, a minimal climb from the prior quarter's estimate of 5.47%. A one-year ahead mean estimate rose 32 basis points to 5.16% from the previous 4.84%.
Average one-year ahead GDP growth forecast surged to 1.02%, up from previous 0.48%. Moreover, businesses seem to be projecting continued momentum, with two-year ahead GDP growth expectations reaching 1.95% from preceding 1.66%.