Australia's CPI for Q3 registered a 1.2% qoq rise, exceeding expectation of 1.1% qoq and marking an acceleration from the previous quarter's 0.8% qoq. Notably, some of the most pronounced price hikes were observed in automotive fuel (+7.2%), rents (+2.2%), new dwelling purchases by owner-occupiers (+1.3%), and electricity (+4.2%).
Over the twelve months, inflation saw a deceleration, with CPI moving from 6.0% yoy to 5.4% yoy in Q3. However, this figure surpassed the anticipated 5.3% yoy. It's essential to note that this is the third consecutive quarter where the annual inflation rate has experienced a downturn, dropping from its high of 7.8% in Q4 2022.
The trimmed mean CPI, which excludes volatile items, recorded a 1.2% qoq increase again outpacing the forecasted 1.1% qoq and the previous quarter's 1.0% qoq . When analyzing the annualized data, the trimmed mean CPI decelerated from 5.9% yoy to 5.2% yoy, surpassing the predicted 5.1% yoy.
Commenting on the latest figures, Michelle Marquardt, ABS head of price statistics, highlighted that "prices continued to rise for most goods and services." However, she also noted a few sectors that registered price declines, notably child care, vegetables, and domestic holiday travel and accommodation.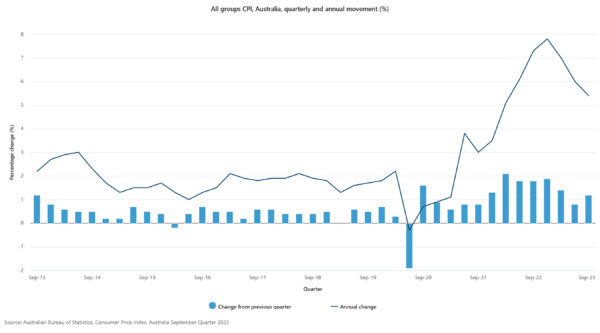 Furthermore, the monthly CPI for September recorded acceleration from 5.2% yoy to 5.6% yoy , which was above the anticipated 5.4% yoy. Significant price surges in this period were identified in Housing (+7.2%), Transport (+9.4%), and Food and non-alcoholic beverages (+4.7%).
Reflecting on these trends, Marquardt stated, "This is the second consecutive rise in the annual movement up from 5.2% in August and 4.9% in July. While many industries' price increases are slowing, automotive fuel has had large annual increases in the last two months, which has been driving the movement higher."