US stocks were under full selloff mode overnight as DOW once tumbled as much as 758 points before paring some losses. It closed down -458.92 pts or -1.90% to 23644.19. S&P 500 lose -58.99 pts or -2.23% to close at 2581.88. NASDAQ suffered most and closed down -193.32 pts, or -2.74% to close at 6870.12. Risk aversion continues in Asian session with Nikkei down -0.88% at the time of writing, HK HSI is down -0.6%. Judging from the responses in the Asian markets, it look like it's more of the US own problem that's driving stocks down.
Trump's repeated attack on Amazon was cited as the main reason for the selloff, with fear of trade war with China in the background. The story isn't going to end quickly as it's reported by Vanity Fair, quoting sources close to the White House, that Trump is "obsessed" with Jeff Bezos, Amazon's CEO. The obsession comes from Bezos' ownership of the Washington Post, which adopts a firm anti-Trump stance. And Trump is considering ways to interfere on a single company. The actions could include forcing the Post Office to renegotiate the deal with Amazon, and, even cancel the pending multi-billon contract with Pentagon to provide cloud computing services.
Anyway, these political dramas are kind of boring. Let's look at the charts.
We've mentioned before that DOW is correcting the up trend from 2016 low of 15450.56. No change in this view. A test a test on 23360.29 support should be seen soon. But the correction from 26616.71 would likely not end before hitting 38.2% retracement of 15450.56 to 26616.71 at 22351.25. We'll hold on this this near term bearish view as long as 24314.30 resistance holds.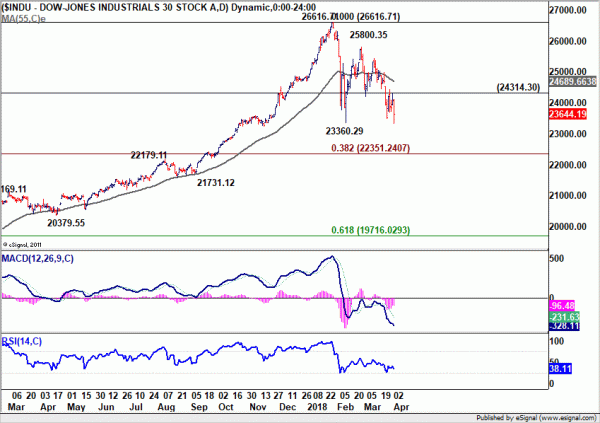 NASDAQ is also having its own problem with the tech sector. But the technical picture is similar. Fall from 76.37 is seen as correcting the up trend from 4209.76 (2016 low). A test of 6630.67 support will likely be seen in the near term. But the correction will likely extend to 38.2% retracement of 4209.76 to 7637.27 at 6327.96 before completion. We'll hold on to this view as long as 7120.46 resistance holds.