After initial post CPI selloff, GBP stabilizes a bit. But it's still trading as the weakest major currency for today.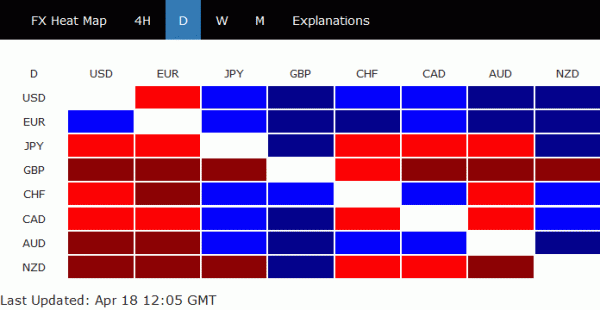 Headline CPI slowed to 2.5% yoy in March, notably below expectation of 2.7% yoy. That's also the lowest level in a year. More importantly, it's also the first time wage growth beat inflation since January 2017. Average weekly earnings, despite meeting forecast, grew 2.8% 3moy in February, as released a day ago.
Chancellor of Exchequer Philip Hammond surely welcomed the data as he tweeted:
Inflation fell to 2.5% in March and is expected to keep falling. With wages rising that will mean more money in people's pockets. pic.twitter.com/JCpVJOpqOu

— Philip Hammond (@PhilipHammondUK) April 18, 2018
But the data is certainly not that welcomed by BoE hawks like Ian McCafferty and Michael Saunders. They comments will be closely watched to see if they back down from their hawkish stance.
It should be noted that BoE's February projections were based on market pricing that Bank Rate will rise to 0.7% by 2018 year end. And by 2019 Q1, CPI inflation would drop to 2.3%. Inflation is now already in a clear down trend, diving from 3% in January to 2.5% in March. With Bank Rate staying unchanged at 0.50%. There is much room for BoE to wait through at least another quarter to see how things play out.
November rate decision is now closer to certain, "no". And May hike is back on the table.