The Nikkei flash Japan manufacturing PMI dropped to 52.5 in May, down from 53.8 and missed expected of 54.6. In the release it's noted that new order growth softened to 9-month low. However, input prices surged at the fastest pace since January 2014.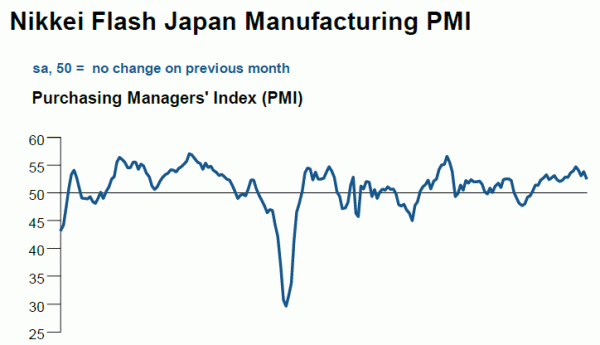 Also, Joe Hayes, Economist at IHS Markit, noted:
"Despite the promising upturn in April data, May's flash release erred on the side of disappointment as the headline figure signalled the weakest expansion in manufacturing growth in nine months.
"Employment growth eased, in line with a weaker accumulation of work backlogs due to softer demand pressures. That said, new export sales expanded faster amid the recent dollar strength vs. JPY.
"However, there was further evidence that supply-side constraints may be impacting output potential, as material shortages contributed to the greatest lengthening of delivery times in seven years. Consequently, input prices soared at the fastest pace in 52 months."