US stocks rebounded broadly overnight as Italy worries eased temporarily. The turning point was anti-establishment Five Star Movement leader Luigi Di Maio's willingness to find someone other than eurosceptic Paolo Savona as economy minister. Savona was vetoed by President Sergio Mattarella who emphasized that "the adhesion to the euro is a choice of fundamental importance". For now, Savona is seen as a sticky point. Senior Five Star lawmaker Laura Castelli was quoted saying "it's astounding that Paolo Savona, a person of great culture and political awareness, has not yet decided to take a step back."
The political turmoil is far from being resolved yet. But at lease for now, the risk of another election, which could be framed by the far-right League as referendum on Euro, appears to be lower. German 10 year bund yield closed at 0.376 yesterday. Italian 10 year bond year closed at 2.903. That is, the spread was still wider than 250.
DOW closed up 306.33pts or 1.26% at 24667.78. The structure of of the rebound from 23344.52 still look like a corrective three wave move that's completed at 25086.49.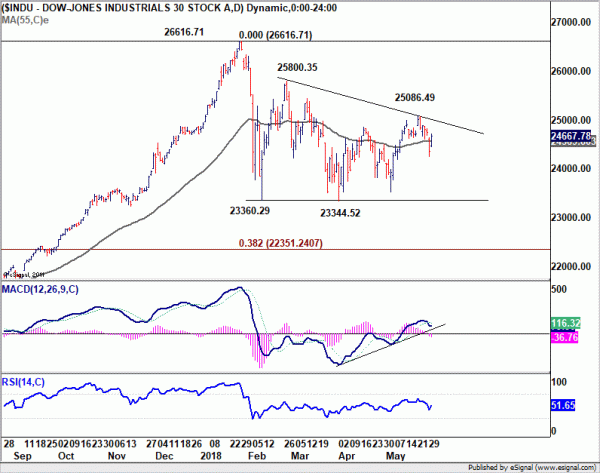 S&P 500 closed up 34.15pts or 1.27% at 2724.01. The chart looks better as the dip from 2742.24 was relatively shallower.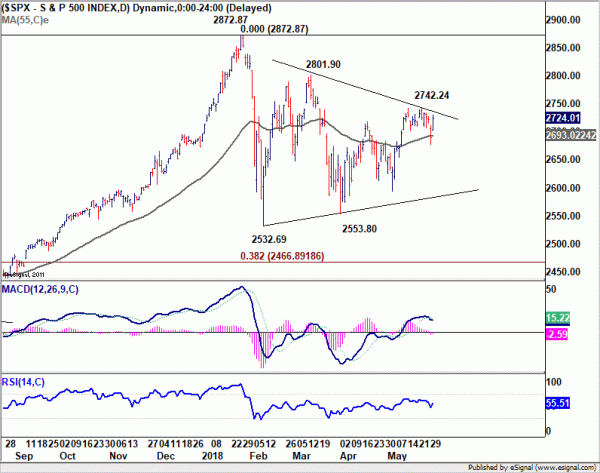 NASDAQ closed up 65.86, or 0.89% at 7462.45. The chart is best looking among the three as it didn't bother with Italy much. Rise from 6805.96 has resumed too.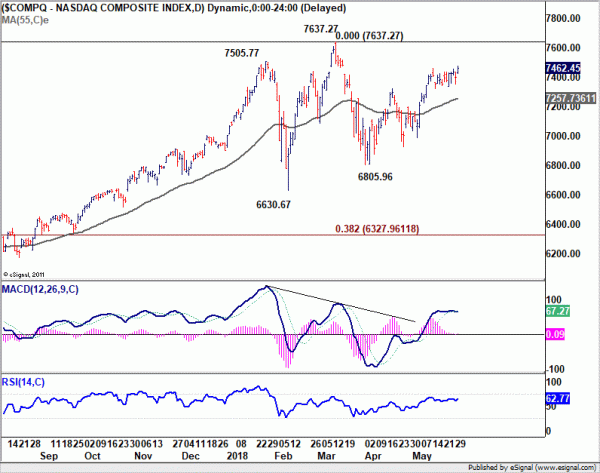 So overall, the picture in US stocks were mixed. But that is expected as the markets are generally in consolidation phase. It's natural for the major indices to be out-of-sync sometimes during a consolidation.