The Fed increased the policy rate by +25 bps for the first time in a year. While this had been widely anticipated, the 'dot plot' indicated that the members expect three hikes in 2017, up from two previously. The accompanying statement was in a hawkish tone, upgrading the assessments to the economic outlook. The members reinforced that 'near-term risks to the economic outlook appear roughly balanced. Fed Chair Janet Yellen made no hint on how the new fiscal policy would affect the monetary stance. Yet, she stressed there is non-negligible uncertainty regarding the new policy.
On the economic assessment, the FOMC acknowledged that the employment market has continued to 'strengthen', with 'solid' job gains and 'decline' in the unemployment rate seen in recent months. It noted that economic activity has expanded at 'a moderate pace since mid-year'. Household spending has risen 'moderately' but business fixed investment has remained 'soft'. Inflation has 'increased since earlier this year', compared with November statement's 'increased somewhat', but is still below the Committee's +2% longer-run objective, partly reflecting earlier declines in energy prices and in prices of non-energy imports'. It also noted that market-based measures of inflation compensation have 'moved up considerably', compared with November statement's 'moved up', but still are low. The Fed suggested that the accommodative monetary policy would continue to support 'some further strengthening in labor market conditions', The use of the word 'some' signals that the Fed judged that the market is now close to operating at full employment.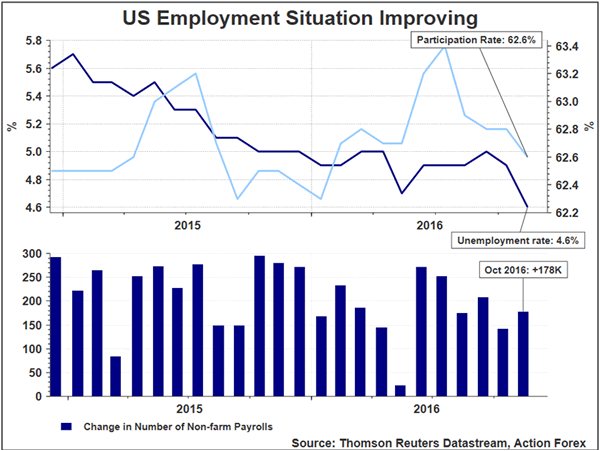 As the press conference, Yellen indicated that it's 'far too early' to judge the effects of fiscal policy on the Fed's policy stance but cautioned the 'considerable uncertainty' around the fiscal policy under Trump's government. She added that 'fiscal policy is not obviously needed to provide stimulus to get back to full employment' and noted some risks of loose fiscal policy, including an elevated debt-GDP ratio and the possibility of inflationary overheating. Yellen left the door open for staying after her term ends in February 2018. While it is a custom for Fed chairs to leave the central bank after their terms expire, Yellen could stay on as a board member as her 14-year term on the Fed's board of governors doesn't expire until January 31, 2024. President-elect Donald Trump has indicated that he would likely replace Yellen after her term ends.
Yellen downplayed the median projections of three rate hike in 2017, compared with two previously, emphasizing that the change was 'modest' and only represented a small shift in the thinking of several committee members. The forward guidance in the statement also reaffirmed that the current 'economic conditions will evolve in a manner that will warrant only gradual increases in the federal funds rate'.