We expect BOC to stay put – leaving the policy rate unchanged at 1.75%, at the upcoming meeting. Macroeconomic indicators released since the April meeting showed improvement. Governor Stephen Poloz said in an interview last week that interest rates are likely to still go up "a bit", if recent economic slowdown proves temporary.
Yet, downside risks, such as re-escalation US-China trade war and decline in oil prices, remain. All in all, members should maintain the same neutral stance as the previous month. Note also that the upcoming meeting would not include press conference and updates on economic projections.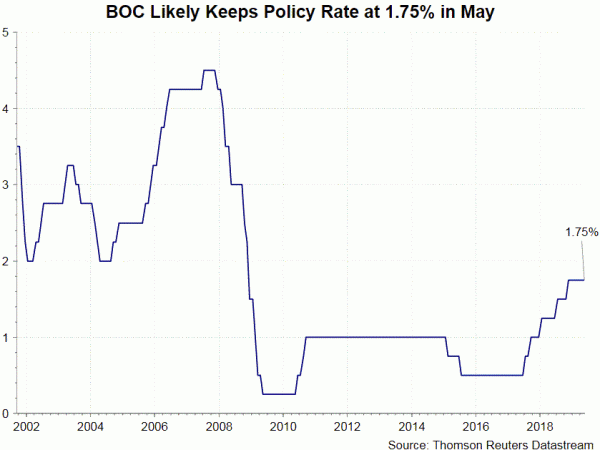 Headline CPI accelerated to +2% y/y in April, from +1.9% in March and +1.5% in February. Excluding gasoline and other energy prices, the reading came in at +2.3%. Core CPI eased to +1.5% y/y, from +1.6% in March. BOC's preferred gauges of inflation – trimmed CPI, median CPI and common CPI – either eased pr stayed unchanged, giving an average reading of +1.9%, down slightly from March's +1.97%.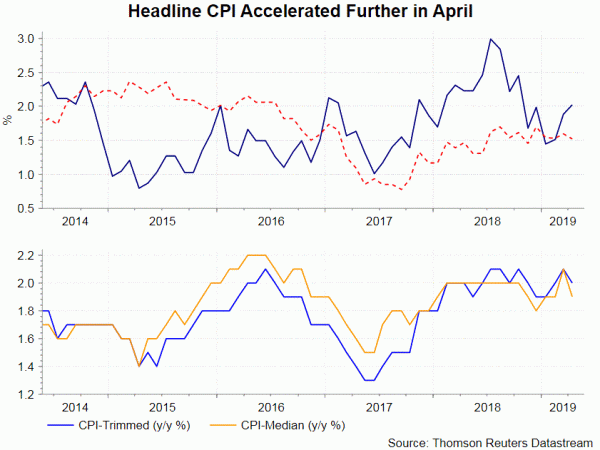 Concerning the job market, the unemployment rate slipped -0.1 percentage point to 5.7% in April. The number of payrolls rose +106.5K, compared with consensus of +10K and a -7.2K decline in March. Increases were seen in both full time and part time jobs. GDP contracted -0.1% m/m in February, after expanding +0.3% in January. This came in even weaker than consensus of no growth (+0%). The economy is expected to return to growth of +0.3% m/m in March. This would probably translate to an annualized growth of +0.7% q/q in 1Q19.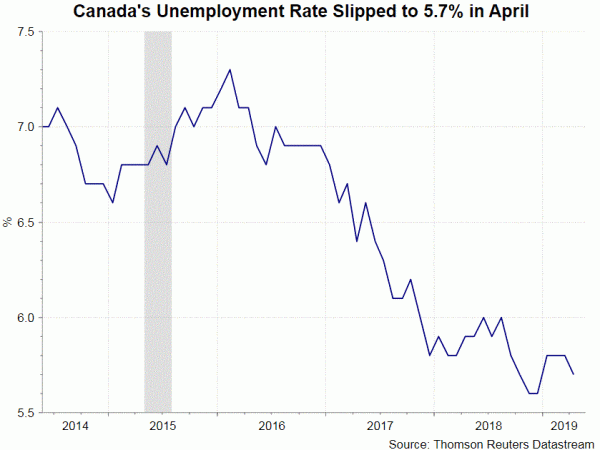 Despite better economic data, some downside risks persist, if not intensify. Crude oil prices have slumped about -10% since the last meeting. This could have negative implications on Canadian dollar and Canadian economy. Members' discussion at the previous meeting did not take into account the rapid escalation of trade war. Donald Trump's announcement of increase of tariff on Chinese exports, and the chaos thereafter, happened after the meeting. Both oil market and trade policy are key issues BOC pledged to monitor in April.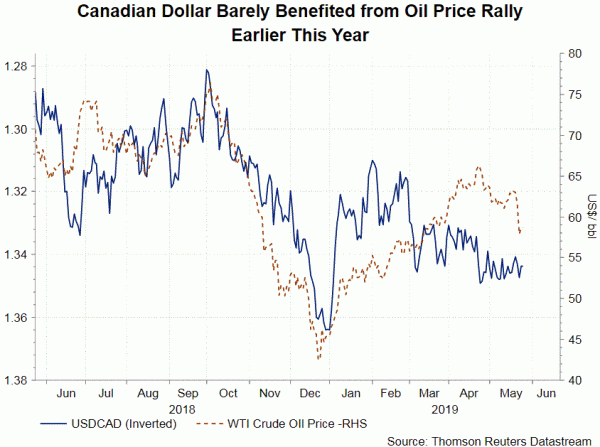 Governor Stephen Poloz sounded "hawkish" at Bloomberg interview last week. As he noted, "the natural tendency is for interest rates to still go up a bit". Yet, "it depends on our forecast coming true that the slowdown is temporary and getting through all that and getting back on the track we were [on] say a year ago". He added that he is uncertain about the size and timing of the rate hike.
Note, however, that such comments were echo of what he said at the press conference of the April meeting. Back then, he suggested that the members were "a little bit skeptical of some of the most-negative data", though they believed these are a "temporary thing". He added that "if our forecast is right, which I firmly believe it is, (then) what that means is that interest rates are more likely to go up than down over time".
We expect BOC to retain the same tone as in April. Last month, the central bank removed any rate hike bias in the forward guidance. Rather, it suggested that "an accommodative policy interest rate continues to be warranted". BOC also pledged to "evaluate the appropriate degree of monetary policy accommodation as new data arrive", in particular "developments in household spending, oil markets, and global trade policy". We expect the above stance to remain intact in May.