The chance of no-deal Brexit appears to have diminished after Article 50 is further extended to January 2020 and the parliament will hold snap elections in December. However, domestic growth has shown signs of moderating and unemployment rate is bottoming. We expect BOE to maintain the slightly dovish tone delivered in September. The Bank rate will stay unchanged at 0.75%.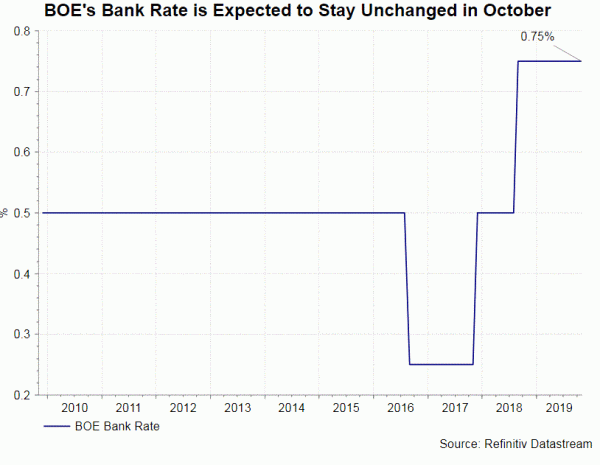 The UK parliament last week passed a bill calling for early elections on December 12. This came in shortly after the EU approved further extension of Article 50 to January 31, 2020. The market is cautiously optimistic about the election outcome. According to opinion polls, supports for Tory have risen to 8-month high of 38%, compared with Labor's 26%. A Tory majority government would facilitate passage of the Withdrawal Deal, paving the way for the second phase of Brexit negotiations – EU-UK trade relations. However, it's voters, rather than pollsters, who decide the winners. Uncertainty about the election outcome, and thus Brexit outlook, remains there.
If the UK manages to leave the EU by January, it would be positive for investments and growth. Yet, the MPC members would likely remain cautious amidst signs of slowdown in recent data flow. Inflation is not a pressure for rate hike anymore, thanks to the strength in British pound. Headline CPI steadied at +1.7% y/y in August, compared with consensus of +1.8%. Core inflation climbed higher to +1.7% y/y, from +1.5% in July. Inflation at the current level should relieve rate hike pressure in the medium term. Meanwhile, other data appeared to have weakened. GDP growth contracted -0.1% m/m in August, after gaining +0.4% a month ago. On 3m/3m basis, GDP expanded +0.3%, accelerating from +0.1% in July. BOE governor Mark Carney noted the underlying growth is "soft". Industrial output contracted -1.8% y/y in august, worsening from -1.1% in the prior month. The market had anticipated a -0.9% decline. In the job market, the unemployment rate ticked up by +0.1 percentage point to 3.9%. Average weekly earnings gained +3.8% y/y in the three months to August, missing consensus of +4%. This also came in slightly lower than +3.9% in the three months to July.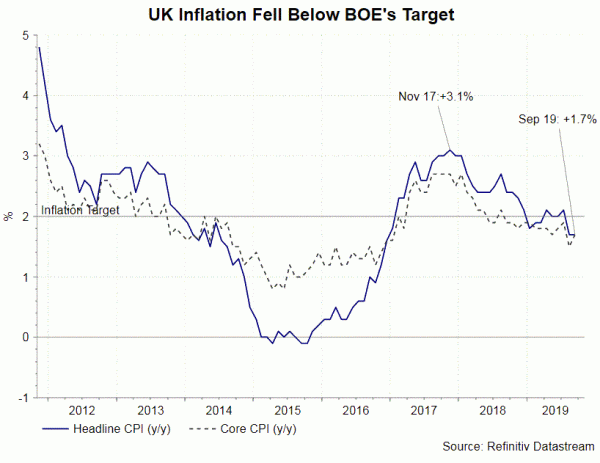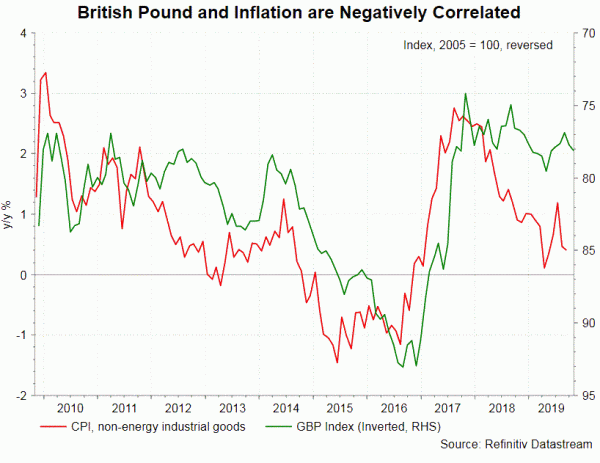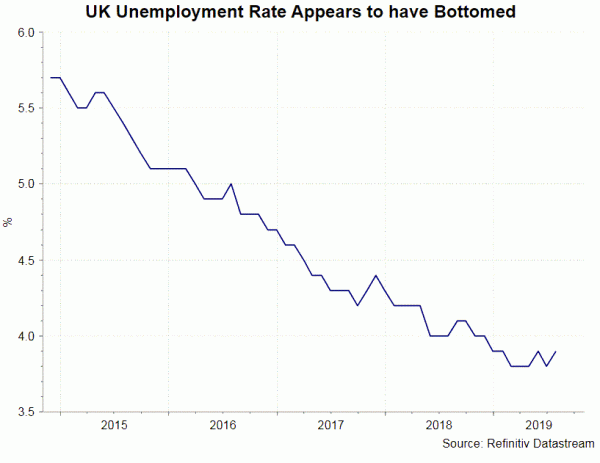 While easing inflation pressure suggests that there is no urgent need of a rate hike, signs of slowdown have not yet triggered an immediate rate cut. Meanwhile, the BOE would prefer to take more time to monitor Brexit outlook until next January for monetary policy decision. We expect the monetary policy stance will stay unchanged.