Despite the dovish surprise in October, we expect BOC to leave the policy rate unchanged at 1.75% this week. Economic data released during the inter-meeting period stayed firm, allowing the central bank to take more time to monitor the situation. However, it will continue to warn that US-China trade war remains the biggest uncertainty to Canada's growth and reiterate that an insurance cut might be needed in coming months.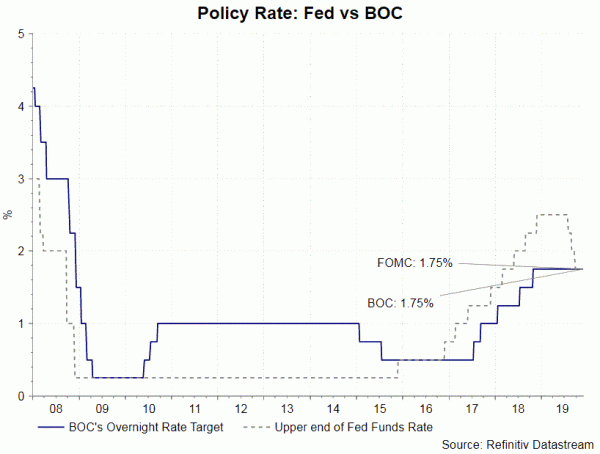 GDP growth slowed to an annualized rate of +1.3% q/q in 3Q19, from +3.5% a quarter ago. From a year ago, the economy expanded +1.65%, while the second quarter reading was revised higher to 1.92%. Despite the soft headline, several components of the economy improved. Growth in consumption, residential and business investment, and government expenditure all improved. This was more than offset by the contraction in net trade.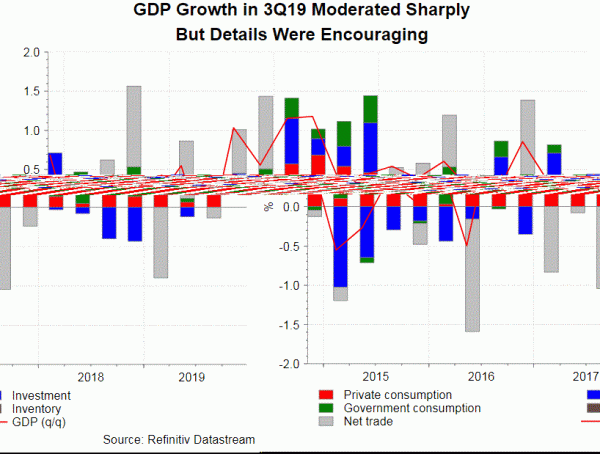 Price level is still in line with BOC's target. Both headline and core CPI steadied at +1.9% y/y in October. Concerning the central bank's preferred inflation gauges, median CPI picked up one percentage point to +2.2% in October, Trim CPI and common CPI stayed unchanged at 2.1% and +1.9%, respectively. The average of the three gauges suggested that inflation stayed above the +2% target.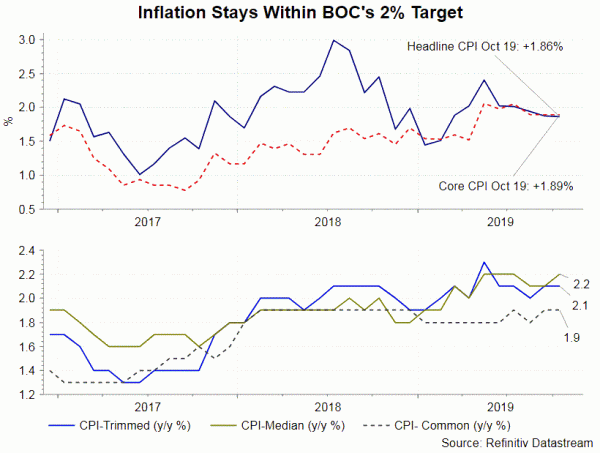 On the job market, the unemployment stayed unchanged at 5.5% in October, the number of payrolls dropped -1.8K, weaker than consensus of +15.9K addition and the 53.7K increase in September.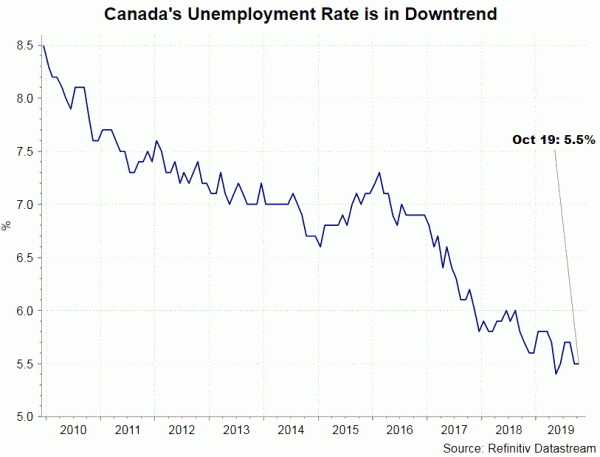 Governor Stephen Poloz indicated on November 21 that the monetary policy will stay unchanged in December. He noted that the current monetary condition is "quite stimulative" and is "about right given the situation". While noting the economy remains in good shape, Poloz also warned of the uncertainty about trade. We expect, at the upcoming meeting, the members would leave the policy rate unchanged, noting the resilience in the domestic economy. At the same time, it would continue to talk about the possibility of an "insurance cut" in coming months, as uncertainty of trade war persists.