As widely anticipated, FOMC left the Fed funds rate unchanged at 1.5-1.75% in December. Trying to deliver a neutral tone, there were only few changes in the policy statement and the updated economic projections. The median dot plot shows that the members expect the policy rate to remain the same in 2020, before rate hike in 2021.
The economic assessment was the same as indicated in October. The members acknowledged a solid job market. Yet, they did not upgrade solid to strong despite the upside surprise of non-farm payrolls addition in November. They also noted strong household spending, but continued to caution that fixed investment and exports remained weak. Same as October, the members indicated that inflation stayed below the +2% target. There were only few changes in the staff economic projections. Inflation forecast (core PCE) was lowered to 1.6% for this year, from +1.8% projected in September. In light to the strong figures in November, forecasts on unemployment rate were lowered through to 2020. The long run rate is also revised -0.1 percentage- point lower to 4.1%.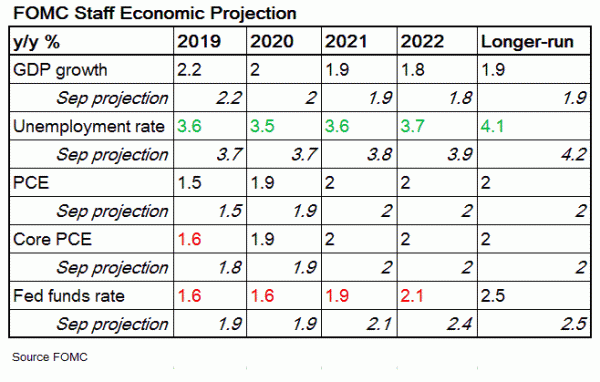 The Fed suggested that the current monetary policy stance is "appropriate" to support economic growth, labor market and inflation near +2%. It, however, removed the reference that "uncertainties about this outlook remain". It pledged to monitor economic developments, including "global developments and muted inflation pressures", on future monetary policy decision. The decision to stand aside was made unanimously. As noted in the latest median dot plot, the fed funds rate for this year was revised lower 1.6% from 1.9% as projected in September. This was only to incorporate the October rate cut in the projection. The policy rate will stay unchanged at 1.6% in 2020, before rising to 1.9% and 2.1% in 2021 and 2022 respectively.
The market was not convinced that the Fed can stay put for the coming year. USD declined while Treasury yields slipped after the announcement. As CME's 30-day Fed funds futures suggested, the market has priced in 45% that there will be at least one rate cut by July 2020. The chance is raised to 64% by year-end.