SNB left the monetary policy unchanged in June. Meanwhile, the members reiterated the commitment to intervene in the currency market as Swiss franc has remained "highly valued". Economic and inflation forecasts for this year were sharply downgraded as a result of the coronavirus pandemic and related restrictive measures .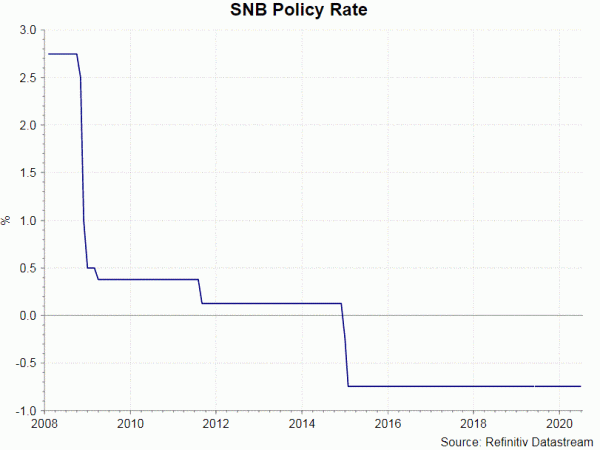 On economic developments, SNB noted that the country is in "a sharp recession". Business activities contracted across different industries, as a result of "massive decline in foreign demand and delivery problems". The service sector, in particular "the hospitality industry, passenger transport, the entertainment industry and parts of the retail trade, is also affected. This was not seen in previous recessions. Against this backdrop, SNB revised lower this year's GDP growth to -6%. Growth will return to the positive territory in 2021. Dismal growth outlook and weakness in oil prices have also led to downgrade in inflation outlook. Headline CPI is expected to fall to -0.7% y/y this year, before improving to -0.2% in 2021. Inflation will return to +0.2% in 2022.
As the economic outlook should remain highly uncertain, SNB left the sight deposit interest rate at -0.75%. Again, the members pledged to "intervene more strongly in the foreign exchange market" in light of the "highly valued" Swiss franc. The following chart shows that SNB's sight deposit has increased significantly in the first half of the year as the central bank intervened to weaken its currency. In the first 5 months of this year, sight deposit has soared, by +95.3B franc, to a record 680B franc. The increase has already exceeded the annual increase over the past several years. During the period, EURCHF has depreciated -1.69%.